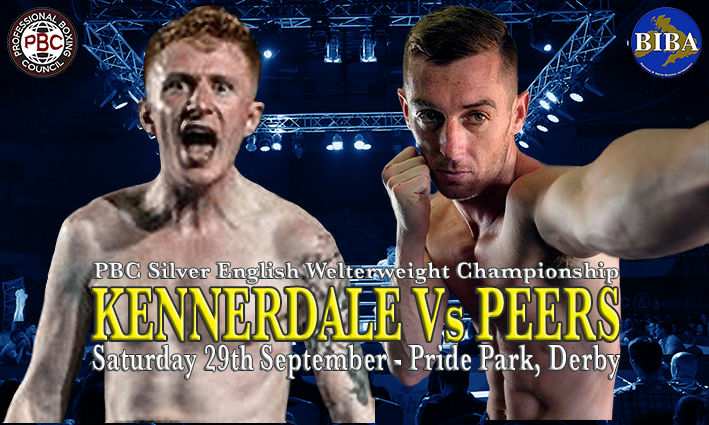 Over the past year or so there's been a lot of speculation, or should that be desire, about the possibility of an all Merseyside showdown between local heroes Craig Kennerdale and Paul Peers.
Until very recently it had been just pure wishful thinking, it had been proposed on numerous occasions and failed to be made, however come Saturday night this much anticipated showdown finally becomes a reality, as promoter Dan Gray decided enough of the talking, if the fans want the fight, they should have their wishes come true and added it to the card for his upcoming event at the home of Derby County FC, Pride Park in Derby.
When Dan Gray first proposed the fight to Paul Peers, Peers had told him "Good luck mate, others had tried to make the match-up in the past and failed." Not to be deterred Gray not only convinced Kennerdale's manager Kyle Gallagher that the time was right, but also the unbeaten prospect himself.
Speaking from his Liverpool home Craig Kennerdale explained why he decided to take the fight now.
"I always knew that Paul and I would face each other one day, but always expected it to be much later on in our careers, but when Dan (Gray) dangled the carrot of making it for a title, my first title shot, I just couldn't refuse.
"I've been waiting for this opportunity for so long, I've been around the sport since I was ten years of age and in that time every single training session, every spar and every fight I've ever had has been leading to this fight, I can't wait for Saturday night, it's my dream to win a title.
"I can't help but think that this fight has all the hallmarks of being a seriously good all action fight the fans will love to watch.
"I believe styles make fights, the difference in our styles, as well as the way we approach fights make this a very interesting match-up. It's going to be a war on Saturday night.
"Like most boxers on the Liverpool circuit, I know Paul's ability and believe me I'm not taking anything lightly, he's a good technical boxer with a strong amateur pedigree.
"I'm unbeaten in the pros and believe me I don't intend on losing my '0' anytime soon.
"Although I have respect for Paul, I'm here to win. I'm in the best shape of my life, I'm hitting harder and faster than ever before and because of that I have every confidence that it will be me that lifts the belt come fight night.
"Respect to Paul Peers and may the best man win!"
Craig Kennerdale versus Paul Peers for the Professional Boxing Council (PBC) Silver English Welterweight title supports co-headliners Ross Doherty versus Gvido Seilis World Boxing League and European Boxing League European Welterweight Championships contest and Nathan Decastro versus Agoe Ashong, Professional Boxing Council (PBC) Commonwealth Super Middleweight Championship contest on the Daniel Gray promoted event at Pride Park in Derby on Saturday 29th September 2018.
There are also two non-championship contests featured on the event, exciting Super Bantamweight Emily Pugh makes her second pro outing against Latvia's Veronika Sirajeva and Leed's Super lightweight Jack Jones makes his professional debut against Dundalk, Ireland's Michael Kelly.
The event is virtually sold out but there are a few tickets still available, for details please call Dan Gray on 07522 401454.