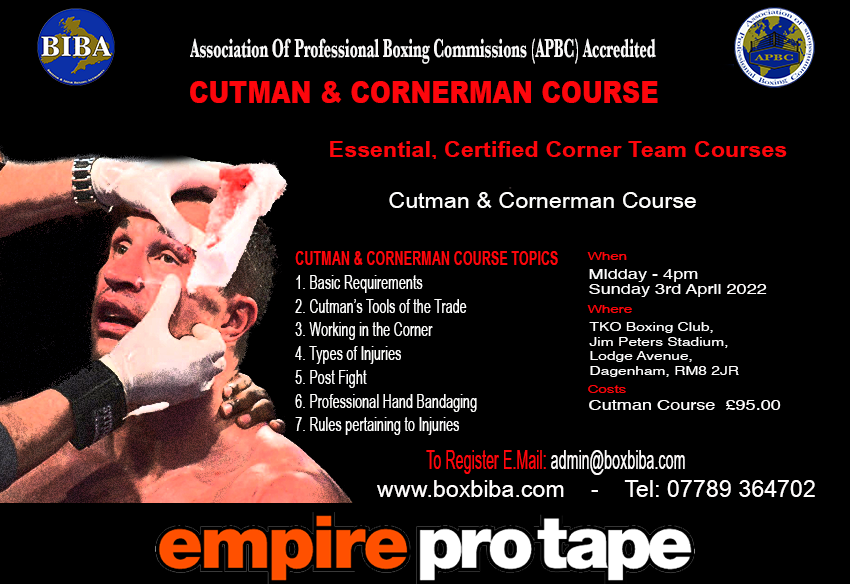 The British & Irish Boxing Authority (BIBA) are hosting an Association of Professional Boxing Commissions (APBC) accredited Cutman and Cornerman Course that is essential for all Cut-men and Cornermen, regardless of experience.
The course will take place at the TKO Boxing Club, Jim Peters Stadium, Lodge Avenue, Dagenham, RM8 2JR on Sunday 3rd April 2022 between Midday and 4pm.
APBC Africa Technical Director, the Legendary Coach, Mr. Lawrence Lokko will be in attendance and along with the APBC/BIBA UK Training Team will be presenting the following course topics:
Duty of Care
Coaches/Cornermen/Cutman Responsibilities
Cutsman's Tools of the Trade
Professional Hand Bandaging
Weight Cutting and Weigh-in
Working the Corner – Contest and Sparring
Types of Injuries and Rules Pertaining to Injuries.
Corner Treatment of Bruising, Swellings and Cuts
Post Fight
Times and fees for the Sunday, 3rd April 2022 course are:
Midday to 4pm – Cutman & Cornerman Course – £95 per person
Photo ID as well as a Passport-Size Head & Shoulders Photo for Certification are required, so please bring with you on the day.
Download the Registration Form Here,
Please note: the form can be completed on or off-line with no need to print – if completing on-line please download once completed and e.mail to admin@boxbiba.com
For further information or registration form to be posted or e.mailed please Call/Text/WhatsApp; +44 (0)7789 364702 or e.mail admin@boxbiba.com
The course will take place on Sunday 3rd April 2022 at:
TKO Boxing Club,
Jim Peters Stadium,
Lodge Avenue,
Dagenham, RM8 2JR.
United Kingdom.