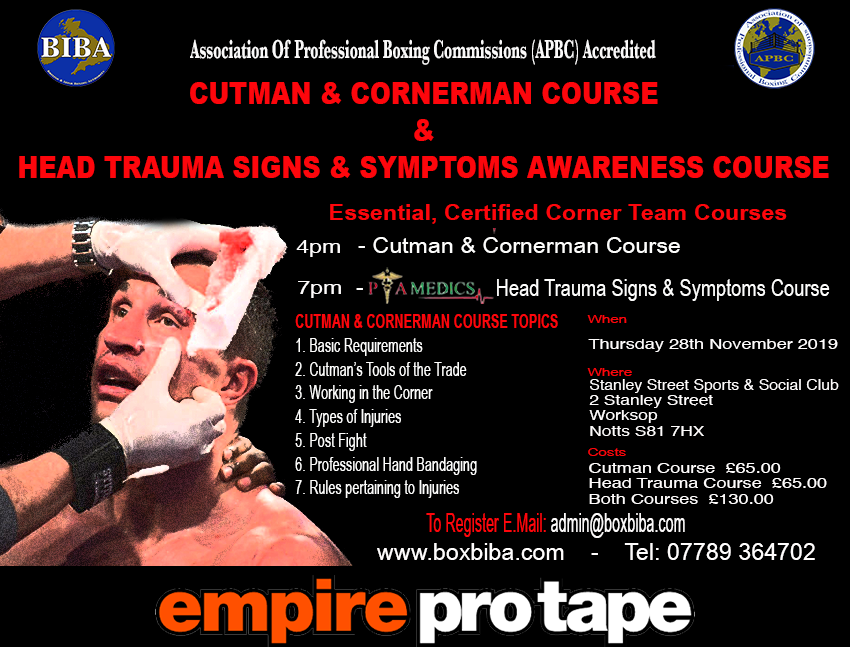 The British & Irish Boxing Authority (BIBA) have arranged an Association of Professional Boxing Commissions (APBC) accredited Cutman and Cornerman Course that is essential for all Cut-men and Cornermen, as well as the PA Medics Certified Head Trauma Signs & Symptoms Course that we, BIBA, feel is essential for ALL BIBA Referees and Officials, as well as Coaches, to also attend, as this course has been mandatory for all BIBA officials and cornermen from September 2018.
These particular courses will take place at the Stanley Street Sports and Social Club in Worksop, Nottinghamshire on Thursday 28th November 2019
Times and fees for the courses on the 16th June 2018 are:
4pm – Cutman & Cornerman Course – £65 per person
7pm – Head Trauma Signs & Symptoms Awareness Training Course – £65 per person
Combined Head Trauma Awareness/Cutman & Cornerman Courses – £130 per person
Photo ID as well as a Passport-Size Head & Shoulders Photo for Certification are required, so please bring with you on the day.
Download registration form at http://apbcboxing.com/CutmanCourseRegistration28thNovember2019Worksop.pdf or for further information or registration from to be posted or e.mailed please either call +44 (0)7789 364702 or e.mail admin@boxbiba.com
ALL Referees, Officials and Coaches are welcome, do not need to be BIBA Licensed, as these courses are essential for all involved in our sport whether Pro, Amateur or Unlicensed.
COURSES LOCATION
Stanley Street Sports & Social Club
2 Stanley Street
Worksop
Nottinghamshire S81 7HX
United Kingdom