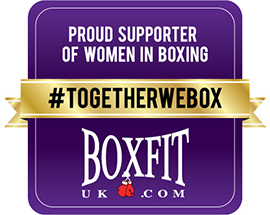 Our Marianne Marston's sponsor BoxFit UK have launched a Women In Boxing Campaign and as the British & Irish Boxing Authority (BIBA) have more licensed Female Professional Boxers than our 'competition' we also welcome and support this excellent project to encourage more female's into our favourite sport (-;
Boxfit UK launches ‪#‎TogetherWeBox‬ to Support Women in Boxing
This year Boxfit UK have launched the campaign Together We Box to get women into boxing and support both professionals and beginners. The campaign quickly got the attention of GB boxing stars Stacey Copeland and Jade Ashmore, who were joined by Amateur athletes Lisa Whiteside, Valerian Spicer and Laura Pain as ambassadors.
Sport is for everyone and there's no place for gender inequality – that's the core message of this campaign. Owner Ken Mills who spearheaded #TogetherWeBox aims to raise awareness of inspirational women and role models, to have a positive impact on beginners who may be wondering if boxing caters to them.
Ken states: "I can only see the passion behind this growing as we reach out to a wider female audience and I'm so pleased with the response and feedback we've achieved in these early stages
I get a lot of women coming into the shop who are dedicated and passionate and I wanted to provide a bigger platform and encouragement for all women in the sport and for those who are thinking of starting out.
No one should feel like they can't take up boxing; it's a universal sport".
With 2017 marking just twenty years of legal professional female boxing in the UK, it's an anniversary that should be full of progression and female athletes in the limelight. There's work to be done but what we're doing is celebrating everyone who boxes and has that passion.
How you can get involved
If you love to box, use the hashtag #TogetherWeBox and tag Boxfit UK on Facebook, Twitter and Instagram and share your photos from the gym, training and even your journey of starting to box with the community.
You can also visit the women's range https://www.boxfituk.com/womens.irc and get in touch with any feedback on clothing, equipment and accessories. Email info@boxfituk.com with the subject line #TogetherWeBox Feedback.
As the message reaches more people, the campaign hopes to get closer to gender equality and have everyone working together for this hugely respected sport.