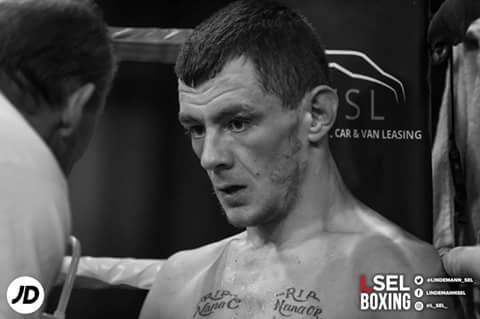 Alias
"The Pikey"
Date Of Birth

1989-06-01
debut
2016-04-15
division
super welterweight
residence

Hyde, Manchester, United Kingdom
1 WINS  11 LOSSES  1 DRAWS
2022-09-24     Nick Quigley      Fusion Night Club, Liverpool      Loss         2×4
2019-12-07    Martin Freeman  Jubilee Sports Bank, Liverpool          Loss                         3/4
Referee: Chris Kelly – RSC – Referee stops contest 1 minutes and 2 seconds of fourth round
Referee stops contest following Will O'Reilly receiving a number of clean punches in succession without responding defensively whilst backed on to the ropes
Please note: That under BIBA's recently updated HSE Policies that Referees are instructed to stop contests immediately whenever a competitor does not appear to be defending themselves adequately or receiving a series of just five clean punches in succession without throwing any defensive shots, or less if the referee is concerned for the health and safety of the competitor at any time.
2017-03-03
Tom Young
1 

0

 

0

John Charles Centre for Sport, Leeds, Yorkshire, United Kingdom

L
TKO
2016-12-16
Nathan Hardy
2 

7

 

1

Metrodome, Barnsley, Yorkshire, United Kingdom

L
TKO
2016-12-03
Gary Fox
12 

4

 

0

Rainton Meadows Arena, Houghton-le-Spring, Tyne and Wear, United Kingdom

L
PTS
2016-10-22
Mindaugas Baublys
1 

0

 

0

Bowlers Exhibition Centre, Manchester, Lancashire, United Kingdom

L
TKO
2016-07-29         Will Cairns    Village Hotel Manchester, Bury, Lancs    Loss                           4/4
Referee: Jimmy Byrne Points 38-39
2016-07-02    Mickey Blackburn     Arena UK, Grantham, Lincs               Draw                         4/4
Referee: Matt Scriven Points 39-39
2016-06-10         Scott Dixon           Greek Theatre, Ta Qali, Malta              Loss                          6/6
Referee: Lee Murtagh. Judges: Nick Aish 54-60 Marcus Schembri 55-60 Stephen Farugia 54-60
date
kilos
rating
opponent
kilos
rating

record

location

result

rounds

1

2016-04-15
72.0
0➞0
Vaclav Skromach
72.5
0➞0
1 16 0

Devonshire House Hotel, Liverpool, Merseyside, United Kingdom

W
PTS
4/4

referee: Jimmy Byrne 39-37
Pro debut for O'Reilly.
Save
Save
Save
Save
Save
Save
Save
Save
Save
Save
Save