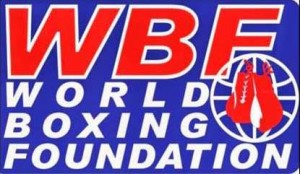 The World Boxing Federation was originally established in early 1988 in Bristol, Tennessee (USA) by its founder and inaugural president Larry Carrier, who was popular as the owner of the Bristol International Raceway. Being successful in a multitude of sports enterprises, Carrier had noted the failures of the existing autocratic sanctioning bodies and that gave the impetus to establish the World Boxing Federation.
In the following year, the WBF held its first championship bouts and Carrier passed on the presidency of the organization to Ron Scalf, who had been his partner from the start. In 2005, Carrier passed away at the age of 82 after a long illness, though his influence on the sport of boxing is still felt to this day.
Under Ron Scalf, the organization blossomed and the WBF grew into a global sanctioning body and held title bouts all over the world. The 90ies was without a doubt a most successful decade for the WBF so far and laid the foundation for its good reputation.
In 2003, Scalf resigned as president and the organization faced troubled times. From 2003 to 2004, Londoner Jonathan Feld tried to rescue the sanctioning body and acted as its president from England.
However, despite huge efforts, he was ultimately not successful and forced to step down when the original WBF company was finally dissolved.
The World Boxing Foundation (WBF) replaced the World Boxing Federation in 2004 after the original organisation–led by American Ron Scalf, and founded in 1988 in Bristol, Tennessee–crumbled after a legal battle with Nigerian fighter Bash Ali.
Former Australian pro Mick Croucher then stepped in, forming the new WBF, replacing the word "Federation" with "Foundation." Croucher, a property developer from Victoria, has set about cleaning up the image of the WBF. In 2004, he clocked 150,000 miles throughout the world trying to rejuvenate the company name.
Since 2004, the re-founded WBF has regularly sanctioned Championship contests worldwide, regaining and in fact far surpassing its former status to become a serious contender to the few more established sanctioning bodies in Boxing today.
Contact:
Kenny Barr – Tel: (UK) 07983 224896 – e.mail: k_barr25@talk21.com