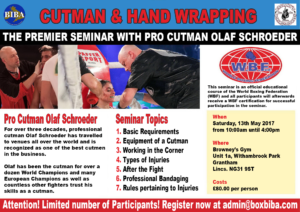 WBF CUT MAN & BIBA RINGSIDE MEDICAL SEMINAR – GRANTHAM, LINCS ON MAY 13th 2017
PRESENTATION BY WORLD RENOWNED CUTMAN OLAF SCHROEDER
For over three decades, professional cutman Olaf Schroeder has traveled to venues all over the world and is recognized as one of the best in his trade.
More than a dozen world champions and many European champions as well as countless other fighters trust his skills as a cutman.

Seminar Topics
1. Basic Requirements
2. Equipment of a Cutman
3. Working in the Corner
4. Types of Injuries
5. After the Fight
6. Professional Bandaging
7. Rules pertaining to Injuries

This seminar is an official educational course of the World Boxing Federation (WBF) and all participants will afterwards receive a WBF certification for successful participation in the seminar.
RINGSIDE MEDICAL PRESENTATION BY LEADING SPORTS FORENSIC SCIENTIST PROFESSOR MICHAEL GRAHAM MBChB; JCPTGP; PhD; FRSM; MPhysoc; BASEM; MICR; MCSFS; PCCMH; APIL Expert; FSB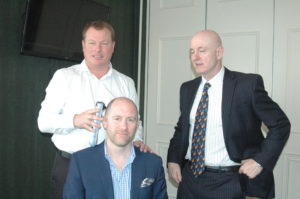 Professor Michael Graham, who is the Deputy Chief Medical Officer of the British & Irish Boxing Authority, is one of the World's leading Sports Forensic Scientists, especially with regard to concussion and head injuries within Combative Sports.
Professor Graham will be making a presentation to coaches on the signs of concussion as well as possible brain trauma, for licensed coaches, in order for them to be aware of the signs during and post sparring or competition.
Professor Graham will also be demonstrating the potentially life saving hand held Infra-Scanners, that detect bleeds to the Brain, that the British & Irish Boxing Authority recently introduced.
This seminar will take place on Saturday 13th May 2017, between 10am and 4pm at:
Browney's Gym
Unit 1a, Withambrook Park
Grantham
Lincolnshire NG31 9ST
The cost of the seminar is £80 per person – please e.mail admin@boxbiba.com to register.
PLEASE NOTE: Russ Brown from Browney's Gym will be hosting an event at the Mark Fell Indoor Cricket Centre, Grantham, NG31 7LE. Any seminar attendees interested in attending this event please contact Russ for tickets on 07432 031901
www.boxbiba.com
Save
Save
Save
Save
Save