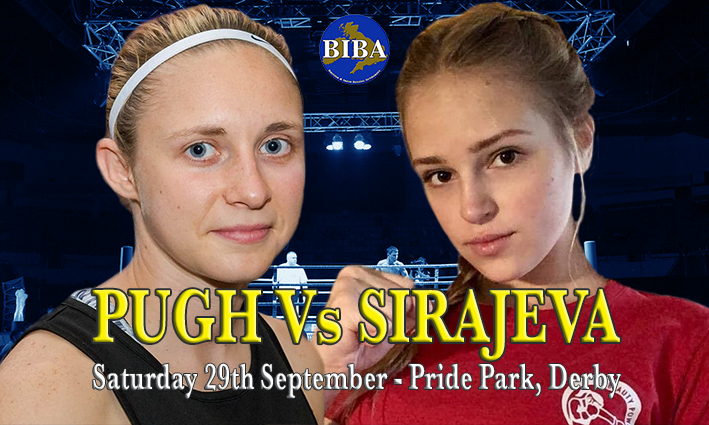 Back in April this year Emily Pugh made her professional debut, and boy oh boy did she do it in style. Emily and her opponent Jelizaveta Cerkasova, who was also making her pro debut, put on a master-class.
The contest was a true master-class, but not in the normal sense of the word as used within boxing circles, whereby one boxer 'gave a master-class to their opponent', oh no it was a true closely fought master-class of boxing full stop, one of the most enthralling boxing matches in a long, long time, one that is only matched by the even more recent 'Fight of the Year' nominated World Boxing Council (WBC) Atomweight World Championship contest between Emily's fellow British & Irish Boxing Authority licensed boxer, the former WBC Muay Thai World Champion Denise Castle and WBC World Youth & International Champion Fabiana Bytyqi.
This coming Saturday, at Pride Park, in Derby, Pugh is set to step into the ring for her second pro bout, this time the Wolverhampton Girl is set to face Latvia's Veronika Sirajeva on the undercard of the WBL & EBL European Championship contest between Ross Doherty and Gvido Seilis and co headliner Nathan Decastro versus Agoe Ashong PBC Commonwealth title showdown.
Speaking from her home earlier, Pugh said;
"I am very excited to get back into the ring, and more than ready.
"I am looking forward to boxing six rounds. I intend to win them every one of these rounds with a strong performance, in style.
"My professional debut seems so long ago, and I know that I can top that performance and put on a strong fight.
"I hope my opponent has worked as hard as me and is ready to give it everything she's got.
"Thank you to everyone that has supported me, by travelling to come and watch, to Aspire Fitness who have helped prep me for this fight and my sponsor E-liquid Paradise, who this would not be happening without… thank you! I will not let any of you down."
Emily Pugh versus Veronika Sirajeva is a support bout for the Ross Doherty versus Gvido Seilis for the World Boxing League (WBL) and European Boxing League (EBL) European Welterweight Championships, that co-headlines with the Nathan Decastro versus Agoe Ashong, for the Professional Boxing Council (PBC) Commonwealth Super Middleweight Championship contest on the Daniel Gray promoted event at Pride Park in Derby on Saturday 29th September 2018.
Also featured on the event is another mouth-watering all Merseyside title clash, between Craig Kennerdale and Paul Peers for the Professional Boxing Council (PBC) Silver English Welterweight title and Leed's Super lightweight Jack Jones makes his professional debut against Dundalk, Ireland's Michael Kelly.
The event is virtually sold out but there are a few tickets still available, for details please call Dan Gray on 07522 401454.