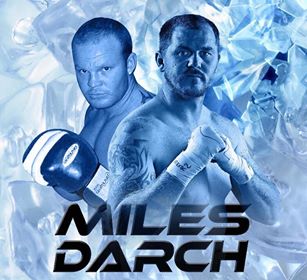 Hari 'H Bomb' Miles is set to take on Dorian Darch in an all Welsh Heavyweight contest that headlines Owen Watkins' inaugural Professional Boxing promotion at the Cardiff Devils Ice Rink in Cardiff on the 14th July.
Back in 2016 the Welsh battlers were due to face each other for the Welsh Heavyweight title, however the much anticipated title clash fell through at the last minute.
Miles, who returns to the Professional ranks, following a short, but sweet, soirée on the Bare-knuckle circuit earlier this year that culminated with a big win over American Josh Burns in February, spoke briefly on the upcoming clash against fellow Welshman Darch.
"I now Dorian very well, we have spared many of rounds over the years, I'm over the moon to be given this opportunity by Owen Watkins at Freaks of the ring promotions.
"Come the 14th July Wales are going to see the best Hari Miles in years
"Heard people mentioning Darchy's power but that's no good relying on if he's hitting fresh air. I'm taking him into dark water with a skilled boxing lesson in a sold out Ice Arena Wales."
The support card for the highly anticipated Miles-Darch Heavyweight clash sees a number of Welsh fighters in action, some for the first time in the pro ranks.
Blackwood's Liam Preece in his second professional bout will take on Stockport's seasoned pro Will Cairns.
Tontey's Carl Thomas will be making his professional debut against Liverpool's Kyle McNicholas.
Port Talbot's Levi Griffiths will also be making his professional debut and is set to face Liverpool's Scott McIntyre.
Another Wales-based fighter making his professional debut will be Bryn Uchaf's Kasper Dudzinski, who will go toe-to-toe with Belfast's Michael Kelly.
Also on the card is an all Merseyside clash between Jonny McConville and David Calveley, whilst Warrington's Ben Hough goes head to head against Coatbridge, Scotland's Ben McGivern.
Hari Miles versus Dorian Darch headlines the Owen Watkins promoted event at the Cardiff Devils Ice Rink, Olympian Drive, Cardiff on Saturday 14th July. Ticket's are available from any of the boxers taking part or call the ticket line on 07931 293320