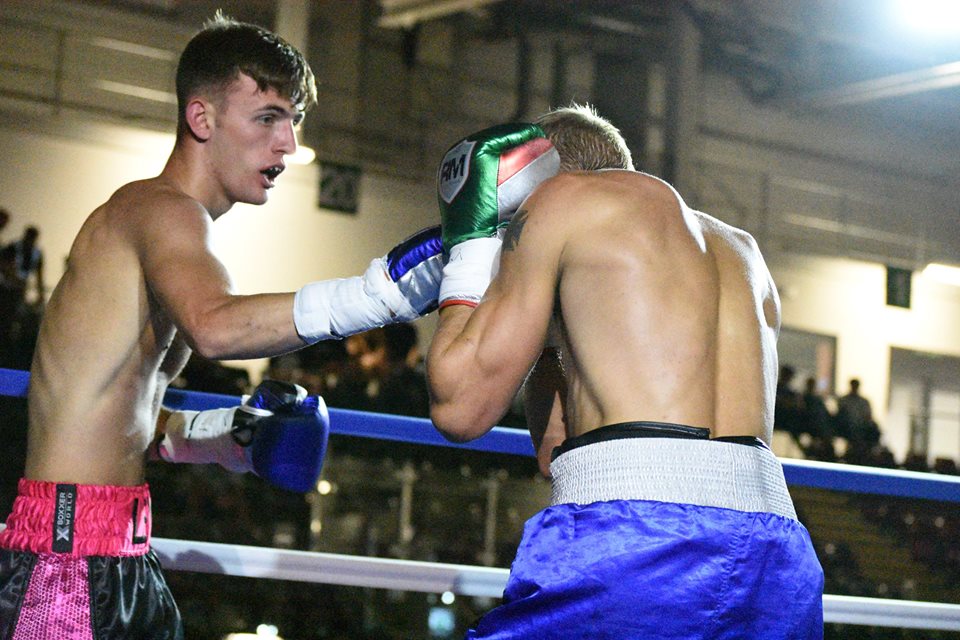 Fight Report: Thomas and Dudzinski Impress on Debuts as Preece, McIntyre and McGivern Score Big Wins In Cardiff
Report by Gianluca Di Caro
Photographs courtesy of Thomas Jones
On Saturday I made the trip west from my London home to the beautiful city of Cardiff for the Owen Watkins promoted event at the Ice Arena Wales.
The event was due to be headlined by the much anticipated all Welsh Heavyweight title clash between Hari Miles and Dorian Darch, for the World Boxing Foundation (WBF) European Heavyweight Championship. However the fight had to be postponed as Darch was unable to take part due to a suspension he received following a fight on a different event a few weeks prior.
Despite this setback Owen Watkins had decided that the show must go on and I for one am pleased he made that choice, as the planned undercard featured a number of top class amateurs I have been looking forward to watching making their professional debuts.
First up was debuting Carl Thomas versus Kyle McNicholas in a four round Light Heavyweight Contest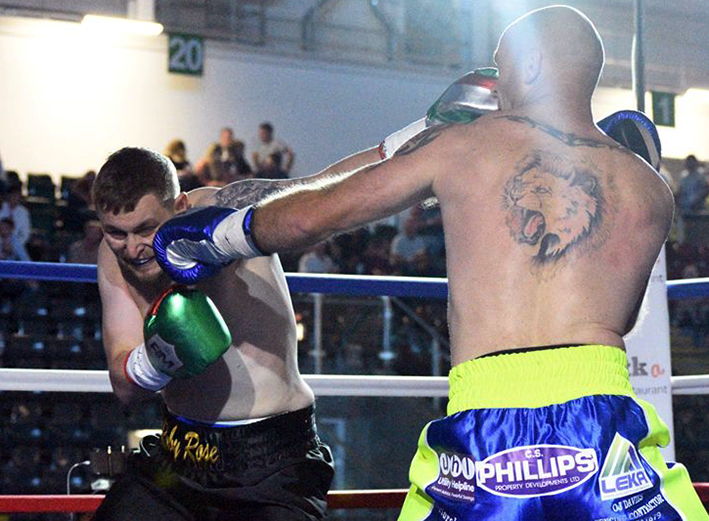 Both lads started really well exhibiting their respective boxing skills.
As the round progressed Thomas stepped up the pressure, backing McNicholas onto the ropes and began letting rip with shots to the body and head of the Liverpudlian
As the round progressed into the final minute Thomas landed a cracking right to the head that shook McNicholas to the core, Thomas followed up with a left to the body followed almost immediately with a big left to the body that sent McNicholas to the canvas.
Surprisingly McNicholas made the count, they sure breed them tough on Merseyside, as that was a vicious body shot just below the lower rib, you just don't see people get up after those that often.
On the restart Thomas went straight back on the attack, firstly firing off a stiff jab followed by another stinging left to the body and a double right to the head.
Thomas kept up the pressure, peppering McNicholas with a wicked body-head combination followed by another good stiff jab to back McNicholas into a neutral corner before letting rip with a sensational left hook to the body, that sent McNicholas down for a second time.
Referee Roger Riley began the count and as it just reached the eight count point McNicholas began to try and rise without success, leaving the referee no option but to wave the fight off just as the bell tolled to signal the end of the first round.
I'm pleased to say that McNicholas was perfectly OK and did get to his feet shortly after.
My final thoughts on this particular fight are; it may have only lasted one round but what a cracking round it was.
Next up see Kacper Dudzinski making his pro debut against Belfast's Michael Kelly in a four round Super Welterweight contest.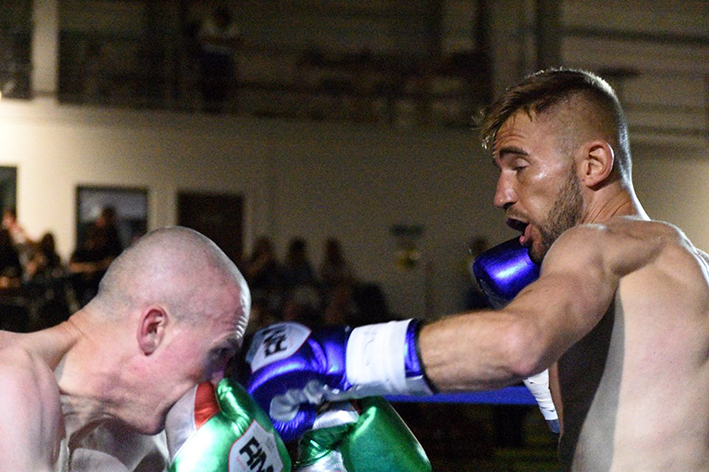 Right from the off Dudzinski got behind his seriously strong jab and began controlling the proceedings with fast hands and stiff double jabs.
Kelly is no mug, not by a long shot, he's as savvy as they come, but even he had to concede to taking a defensive stance and patiently wait for any opportunity, no matter how slender, to counter, which to be honest were few and far between.
Dudzinski seriously impressed against Kelly and has a fantastic future in the sport.
It may have been his debut, but based on his performance on Saturday night, against a former genuine title challenger, I reckon he'll go all the way to the top and deserves it too, anyone who can keep Kelly on the back foot the way Dudzinski did for virtually the full four rounds is without doubt something special.
Don't get me wrong Kelly landed some cracking shots but Dudzinski's sensationally fast hand speed and superb defence kept those opportunities to the bare minimum.
Nice little touch from Kelly late in the final round, following a 'matrix style' reaction move, that almost prevented him touching a glove down, however, much to his annoyance he received a count from referee Chris Kelly, although Kelly was convinced he'd actually had avoided his glove touching the canvas, but instead of standing there and protesting he dropped down and proceeded to do push ups throughout the count to show his disapproval, much to the delight of the crowd
After four brilliant rounds it came as no surprise that it was Dudzinski whose hand was held aloft – the official result showed Dudzinski scoring his maiden pro victory by a 40-35 points margin.
Next up was Ben McGivern versus Ben Hough in a four round Cruiserweight contest.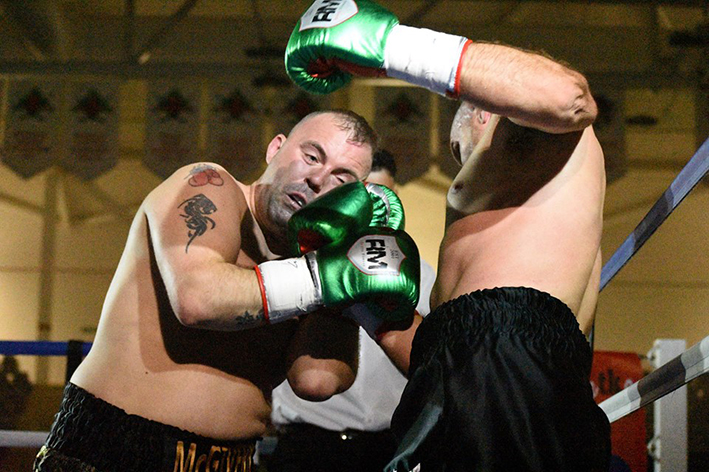 What a fight, McGivern mainly bossing the proceedings, forcing Hough on to the back foot as well as the ropes for a good chunk of the first stanza. Hough may have been on the defensive for a good part of the first but when the opportunities arose he took them in style.
It was virtually a complete turnaround in Round Two, with Hough wrestling control and putting McGivern on the back foot, and ropes, similar to the way the Scot had bossed the first round.
The third stanza was a much closer fought affair, so much so I found it hard to split them, points wise.
The fourth started out more or less as the third ended, with both protagonists going for it hammer and tongs, but as the Round progressed McGivern stepped up the pace enough to not only secure the round, but also the victory.
After four sensational all action rounds, as I gave away above, it was McGivern that came away victorious, referee Roger Riley scoring the excellent contest 39-37 in favour of the Scotsman.
Following the fight both boxers agreed to a rematch, which I have been reliably informed is likely to take place in Liverpool on September 8th – put the date in your diary this is a fight no one should miss!
The penultimate fight of the night see Blackwood, South Wales' Liam Preece versus very, very late replacement Pentrefoelas, North Wales' Steffan Hughes in an all Welsh contest.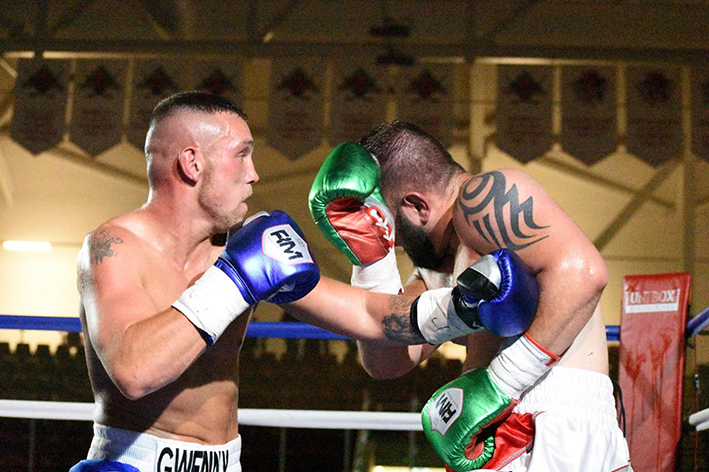 What a corker this fight was, it was an all action thriller from start right through to the final bell.
Considering Preece had a considerable weight disadvantage to deal with, he really went for it, taking the fight to his more experienced, and heavier, opponent.
Preece boxed confidently not only when on the attack but also when defending against the pinpoint accurate exocets launched by Hughes.
Preece was impressive throughout, and I'm sure it didn't surprise anyone in the Ice Arena Wales when referee Chris Kelly's scorecard was read out as a 40-36 points victory for the South Wales Lad.
The final pro fight of the night pitted highly rated former amateur star Port Talbot's Levi Griffiths versus Liverpool's Scott McIntyre.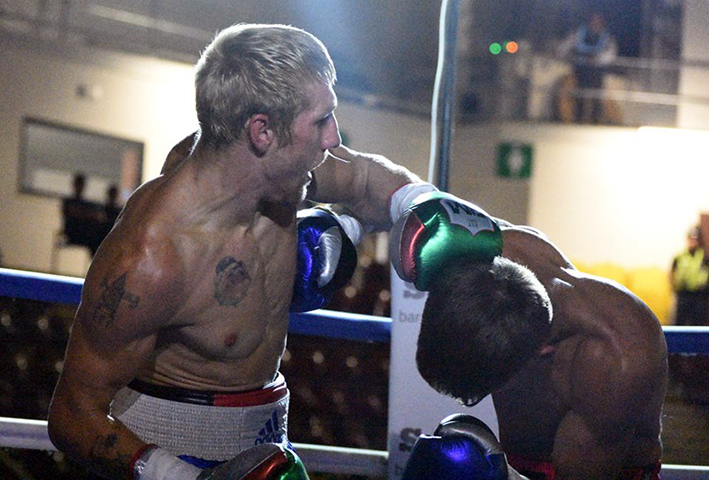 Griffiths is so slick, the classy youngster began well and landed some stinging shots, which forced McIntyre to switch to 'plan B' early on in an attempt to keep on the inside to prevent the Welshman from getting his big shots off.
McIntyre's plan B may not have been pretty, but boy oh boy it was highly effective.
After the initial 'open' period, which allowed the slick Welshman to achieve a good level of success, the majority of the fight could have taken place in a phone box.
McIntyre clearly had no intention of giving Griffiths any opportunity to let rip with any big shots, he just kept him tied up throughout, sometimes by foul means, so much so that after numerous warnings for holding or not breaking when told, referee Roger Riley deducted a point, however even that point deduction wasn't going to prevent the Liverpool man from securing the victory, the official score being 39-36.
Have to say, whilst personally disappointed that the Miles-Darch WBF European title fight didn't take place, promoter Owen Watkins had put together such a top class support card that I, as well as am sure everyone else in attendance had their Pugilistic Appetite well and truly sated by the fare on offer and look forward to his next promotion, which will take place at the Cwrt Herbert Leisure Centre in Neath on the 22nd September.