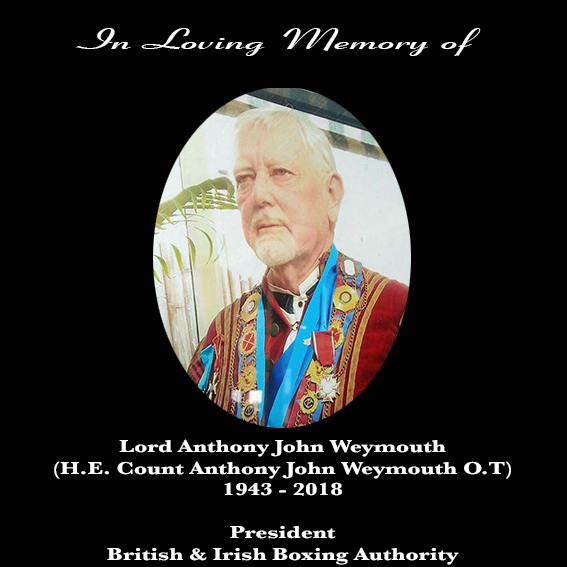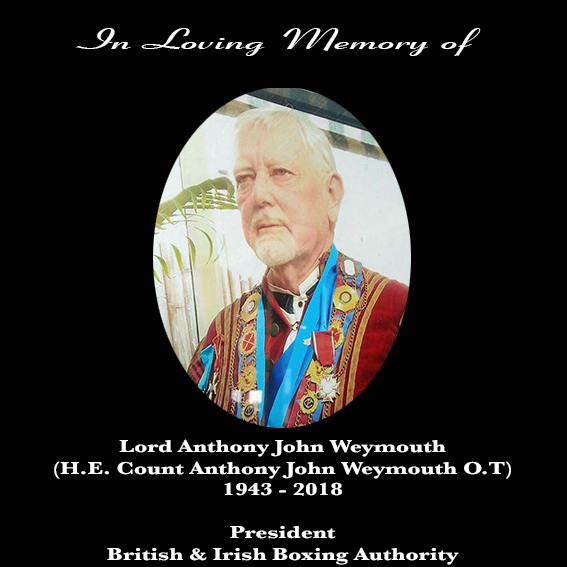 R.I.P. Lord Anthony Weymouth – President of the British & Irish Boxing Authority
It is with immense sadness that we announce the passing of the British & Irish Boxing Authority (BIBA) President, H.E. Count Anthony John Weymouth O.T. on Friday.
On leading the tributes to Lord Weymouth, BIBA Chief Executive Officer and Executive Vice President Gianluca Di Caro said;
"Firstly, I would like to offer my sincere condolences to Lady Margaret and all of Tony's family and many friends worldwide.
Tony's passing came as a huge shock to myself and all involved not just with the British & Irish Boxing Authority, but also the many Charities that he actively supported and worked tirelessly for.
His passion for helping those in need was nothing short of inspirational, he was actively involved with numerous charities and worked tirelessly for these worthwhile causes.
He really made a difference for those less well off than himself or suffering due to no fault of their own, so much so that just last year one of the Charities, the IHM World Peace Organization awarded him the World Peace Appreciation Certificate.
Tony was equally passionate about our beloved sport and he fought tirelessly for the introduction of improved Boxer Health & Safety policies and procedures, many of which were introduced under his watch, not just by ourselves, in some cases other commissions followed our lead.
Tony will be sorely missed, he was so passionate for our beloved sport and the causes he supported, he was one of a kind and totally irreplaceable.
Rest In Peace my friend."
A Memorial Service for Lord Anthony Weymouth will be take place at 11am on Thursday 24th May 2018 at the Bunurong Memorial Park, Cirrus Chapel, 790 Frankstone Dandenong Road, Dandenong South, Melbourne, Victoria, Australia.