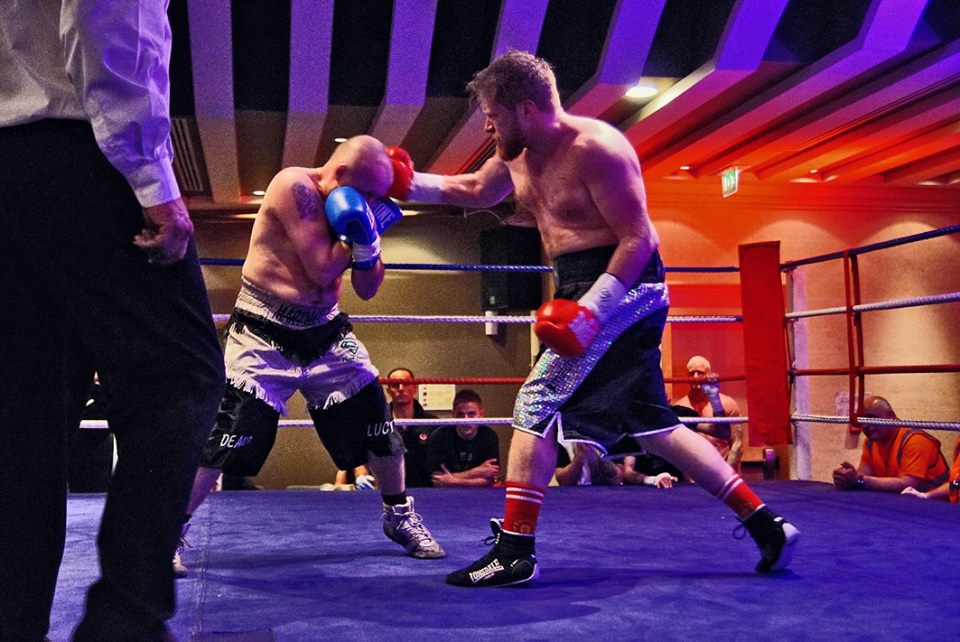 Life Saving Brain Scanners Debut at Exclusive Boxing Event in Malta.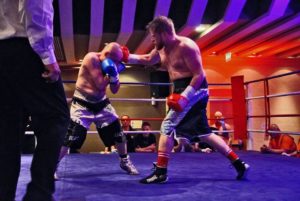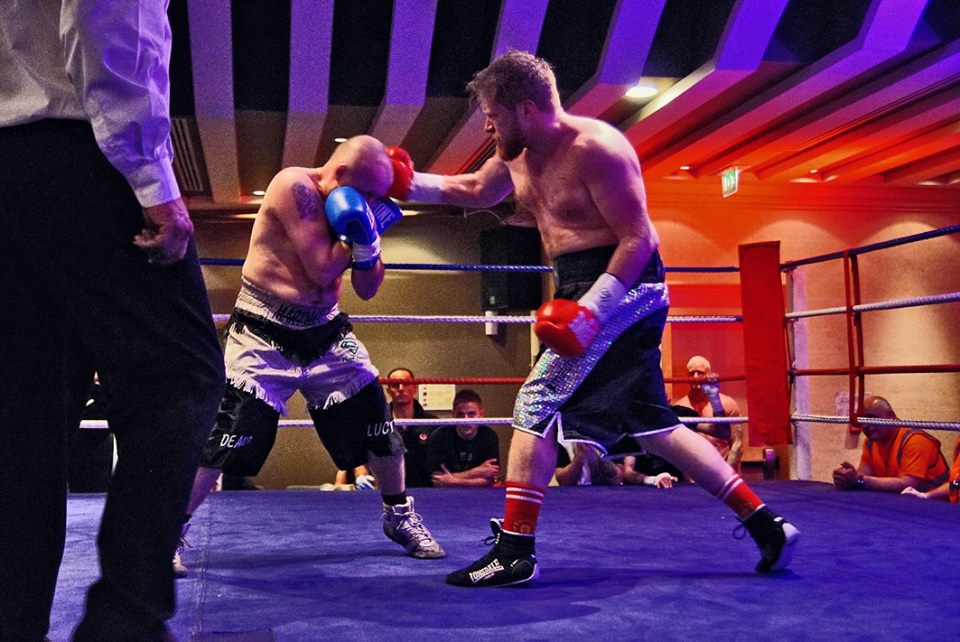 Last Friday evening the cream of Maltese Glitterati descended on the Le Meridien Hotel in St Julian's, Malta, for a rather exclusive Professional Boxing event, sanctioned by the British & Irish Boxing Authority (BIBA) in conjunction with the Malta Boxing Commission (MBC).
With tickets priced at almost ten times the normal for a boxing event in the Mediterranean haven, joining the rich and famous from the Islands were in excess of sixty international high rollers, each and every one of them attending to support Damon Booth as he made his professional boxing debut, against Ireland's Marty Kayes, as well as to watch the highly decorated multi-World Champion Scott Dixon in action against England's Will Cairns
However, those in attendance for the swanky event were totally unaware that in the background was an historic event also taking place, as for the first time on the Islands and only the second time ever at a professional boxing event anywhere in the World, the ground breaking hand held Infra-Scanners, that can detect bleeds to the brain of the combatants, were in action both pre and post fights.
The Infra-Scanners, that were successfully introduced by the BIBA just two weeks prior, at an event in Paisley Scotland, following a number of high profile life changing head injuries incidents at professional boxing events in the UK last year, most notably the death of Scottish Boxer Mike Towell, even though these tragic incidents were on events sanctioned by the British Boxing Board of Control (BBBofC) and not by themselves.
The Infra-Scanner is a hand held brain scanner that is designed to detect bleeding on the surface of the brain inside the skull, so epidural and subdural bleeds, which are the common bleeds associated with an impact to the head, ones that can commonly cause life changing injuries or in the worse case scenario, death, in a short space of time.
Within Boxing, the Infra-Scanner is not intended to replace an MRI scan, which is required annually for Professional Boxers, but allows Doctors at Ringside to undertake a two or three minute scan, to determine if as a result of the boxing match that a boxer may have sustained an epidural and subdural bleed to the head.
Should the scan produce a positive result this will enable the Ringside Doctors to ensure that the Boxer is admitted immediately to the nearest specialist unit, where the appropriate care can be undertaken.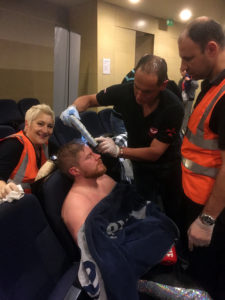 Malta Boxing Commission (MBC) Chief Medical Officer and British & Irish Boxing Authority (BIBA) Medical Advisory Committee Member Dr Mark Xuereb spoke briefly after the successful introduction of the Infra-Scanners at the special event.
"My comments as a Boxing Doctor for both the MBC & BIBA and having been in this profession for in excess of ten years, I can say I've seen a lot of boxers and sometimes as a clinician the team has a dilemma do you refer to hospital or don't you, which is a crucially important decision because you are potentially toying with death.
Without wanting to dramatize, this is a fantastic tool, the Infra-Scanner is a crucial tool to aid in that decision process. It's easy, it's simple, any paramedic or doctor can be trained to use it and it helps with the triage system, which is crucially important decision, because we decide what is current urgent versus future important.
We have guidelines for head injuries charting, whether to refer or not refer, as always this will not replace clinical assessment, however shall we say it fortifies and confirms your clinical hunch.
So easy to use, perfect, would I use in the future, absolutely, the research results are undeniable, and it's making waves all over the world, so I would really like to thank whoever invented it because it is really going to help us as health & safety in any sport is first and foremost, brilliant, brilliant, brilliant, five stars and hopefully as it develops it will get smaller and lighter, although saying that must say it is already lightweight and reasonable in size, so brilliant all round."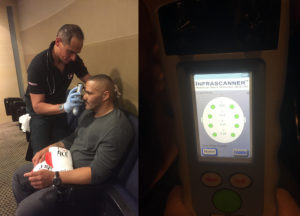 Maltese Heavyweight Billy Corito, who had attended the event became the first Maltese boxer to be scanned, even though he wasn't boxing on the event had this to say about the technological breakthrough.
"I was overwhelmed to be asked by Dr Xuereb to be the first Maltese boxer to have a Brain scan using the infra-scanner.
Could not believe this little remote looking device can save a boxers life! It was so quick and easy to detect if I have an injury or blood on my brain or anyone else's.
It was over in just a couple of minutes, so just imagine if all boxing federations have one of these on every boxing event how quick lives would be saved.
As the saying goes, boxing saves lives, well now its Infra-scanners who are saving lives"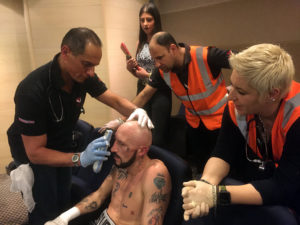 Scott Dixon, who was the actual first competitor to be scanned post fight at the event also spoke about the infra-scanners and the positive effect he believes having them ringside will have on the sport.
I think it's an absolute revelation that BIBA have now bought in the head scanners to Malta, before and after every contest, this is the way forward, the only way forward.
There have been a few fatalities in the ring and most notably when I had my first fight on Friday the 13th October 1995 my best friend James Murray died in the boxing ring.
It took me a long time to get over that and I always hoped and wished that the rules would become more stringent. Back then it was British Boxing Board of Control, but hey now the British & Irish Boxing Authority are ruling the waves now with their pro-active approach to boxer safety.
BIBA make it their number one priority to look after the fighters and that's the way it should be, their regulations are amazing, so I'm delighted to be a BIBA license holder and to be the first boxer to undertake a scan after my fight here in Malta, forget the rest BIBA's the best.
I came to Malta eleven years ago and when I came here boxing was virtually nonexistent, they never knew a left hook from a fishhook, but now they've progressed and moved forward, so much so that having the scanners here are leading the charge in boxer safety.
Scott then went on to praise the BIBA on their professionalism with regard to another of their procedures, this time regarding dope tests, particularly due to an unsavory brush with the local doping authority, who not only failed to follow correct procedures at one of his previous fights that was sanctioned by the Malta Boxing Association (MBA), but then decided to charge him with failing to undertake a doping request, which is currently under appeal.
"I'm also delighted that tonight BIBA even regulated the doping screening, I volunteered to take the tests as they were going to pick them at random which is standard procedure, but I volunteered as I have nothing to hide.
The true procedure is that you are notified before that you will be subject to dope testing, obviously like I said, I volunteered, I done one test before the contest.
After my fight I was escorted, to the dressing room, by BIBA officials, to make sure there was no dodgy business, I went straight to the dressing room and was observed and did another doping test.
Obviously both were clear, as always, because I'm a professional athlete, I've been a professional 23 years now.
Now I've done thirty dope tests during my career in total, the correct procedure is you be notified and like I said BIBA followed the correct procedure and in an appropriate manner.
I'm so pleased to be part of this set-up, I mean listen there are so many cowboys in this sport, let's be honest you have the MBA here in Malta for an example, so if you want to join a circus you go with them, if you want to be part of a truly professional set up you go with MBC or BIBA, as they look after the fighters safety first and foremost and that's the only way forward and that's why we've gone with the top of the chain."
Save
Save