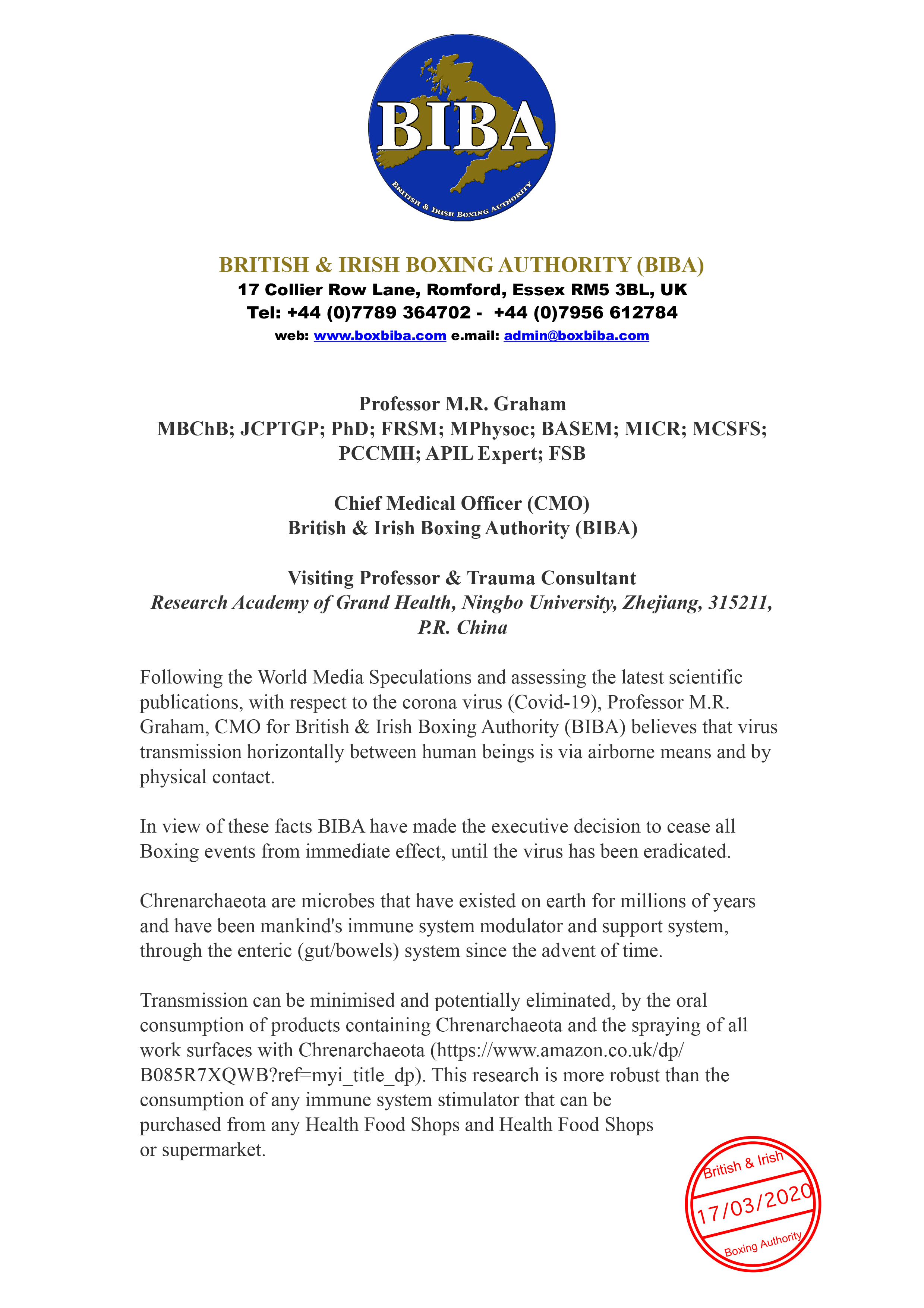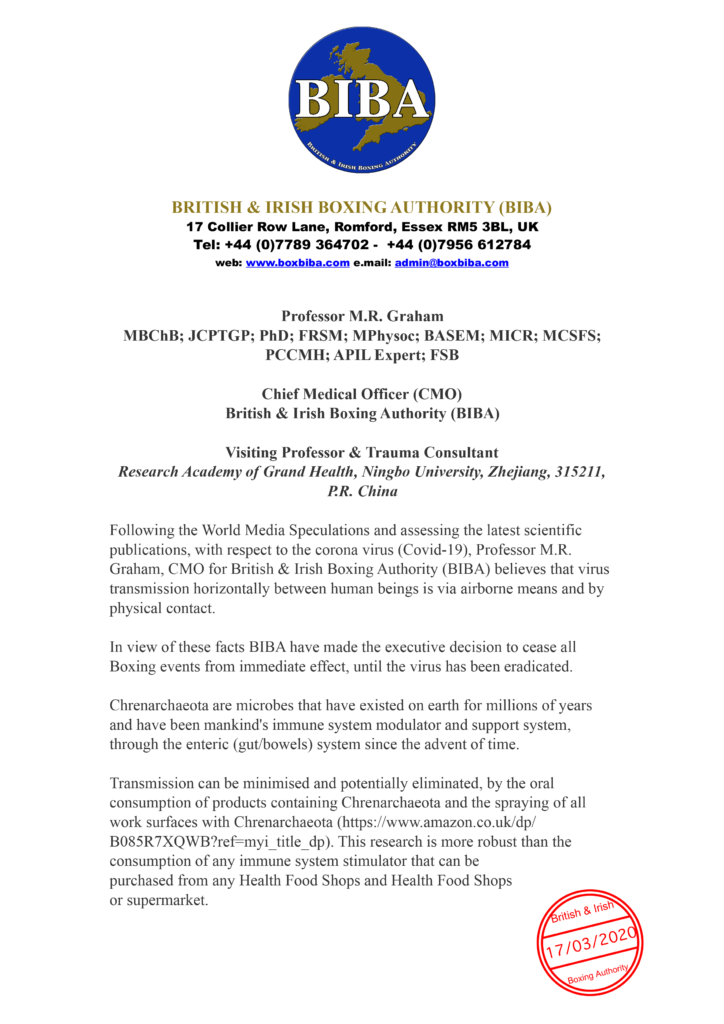 Professor M.R. Graham
MBChB; JCPTGP; PhD; FRSM; MPhysoc; BASEM; MICR; MCSFS; PCCMH; APIL Expert; FSB
Chief Medical Officer (CMO)
British & Irish Boxing Authority (BIBA)
Visiting Professor & Trauma Consultant
Research Academy of Grand Health, Ningbo University, Zhejiang, 315211, P.R. China
Following the World Media Speculations and assessing the latest scientific publications, with respect to the corona virus (Covid-19), Professor M.R. Graham, CMO for British & Irish Boxing Authority (BIBA) believes that virus transmission horizontally between human beings is via airborne means and by physical contact.
In view of these facts BIBA have made the executive decision to cease all Boxing events from immediate effect, until the virus has been eradicated.
Chrenarchaeota are microbes that have existed on earth for millions of years and have been mankind's immune system modulator and support system, through the enteric (gut/bowels) system since the advent of time.
Transmission can be minimised and potentially eliminated, by the oral consumption of products containing Chrenarchaeota and the spraying of all work surfaces with Chrenarchaeota (https://www.amazon.co.uk/dp/B085R7XQWB?ref=myi_title_dp). This research is more robust than the  consumption of any immune system stimulator that can be purchased from any Health Food Shops and Health Food Shops or supermarket.
References
Graham M.R., et al. 2015. Obesity and Inflammation. Probiotic or Pharmaceutical Intervention? International Journal of Recent Scientific Research; 4: 3284-3294.
Gill, E.E., Brinkman, F.S.L. 2011. The proportional lack of archaeal pathogens: Do viruses/phages hold the key? Insights & Perspectives. Bioessays, 33:248–254. doi.org/10.1002/bies.201000091.
https://www.amazon.co.uk/dp/B085R7XQWB?ref=myi_title_dp.
Kim J-M., et al. 2020. Identification of Coronavirus Isolated from a Patient in Korea with COVID-19. Osong Public Health Res Perspect;11(1):3-7.
Li Q., et al. 2020. Early transmission dynamics in Wuhan,China, of novel coronavirus‐infected pneumonia. N Engl J Med; NEJMoa2001316. https://doi.org/10.1056/NEJMoa2001316.
Ng, O-T. , et al. 2020. SARS-CoV-2 Infection among Travelers Returning from Wuhan, China. N Engl J Med; March 12, doi: 10.1056/NEJMc2003100.
Peng X. 2008. Evidence for the horizontal transfer of an integrase gene from a fusellovirus to a pRN-like plasmid within a single strain of Sulfolobus and the implications for plasmid survival. Microbiology; 154: 383–391 doi.org/10.1099/mic.0.2007/012963-0.
Sun P., et al. 2020. Understanding of COVID‐19 based on current evidence. Journal of Medical Virology; doi.org/10.1002/jmv.25722.
Sutton, T.C. 2018. The Pandemic Threat of Emerging H5 and H7 Avian Influenza Viruses. Viruses; 10: 461; doi:10.3390/v10090461.