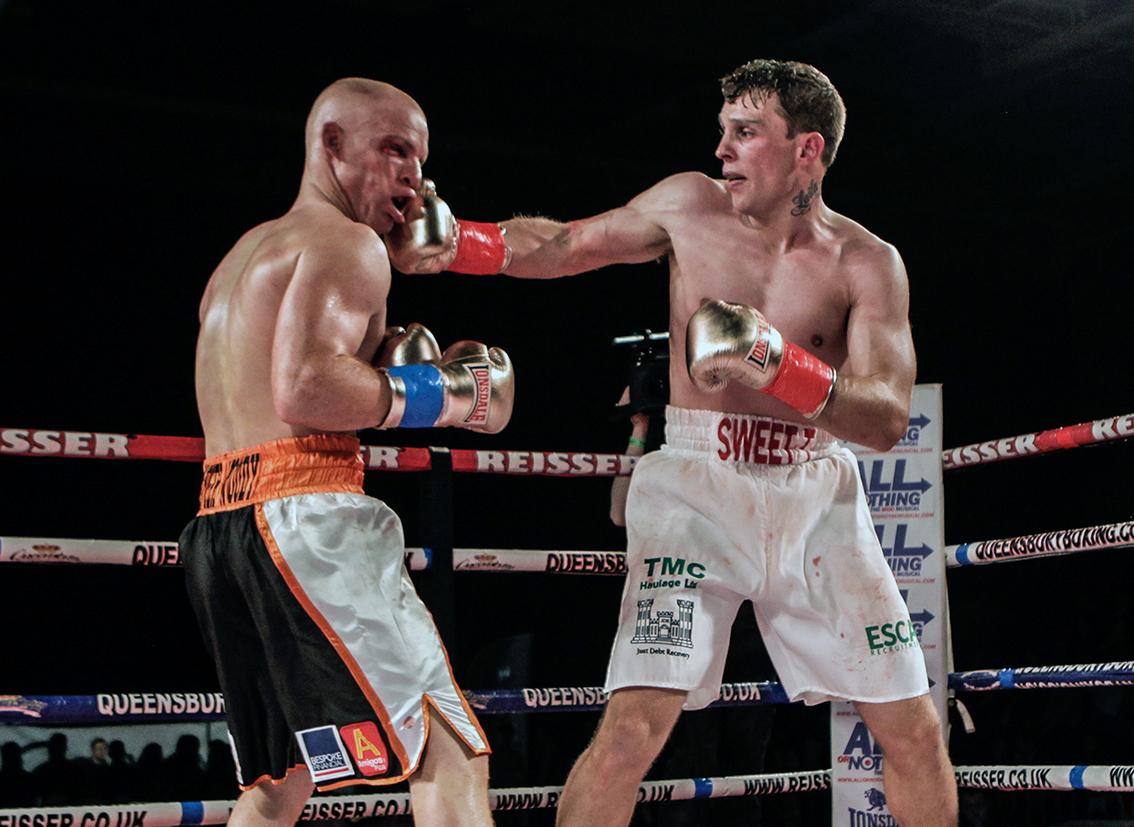 Up Close and Personal with Tommy 'Sweet T' Jacobs.
Interview by Gianluca Di Caro
Photo courtesy of Queensbury Boxing League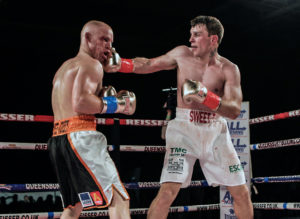 For this edition of 'Up Close and Personal', the featured boxer is Colchester, Essex's top prospect Tommy Jacobs, who is set to face Michael Robinson on the Queensbury Professional Boxing Series, that heads up the Ross Minter and Alan Foley promoted Queensbury Boxing League NO MERCY event at Effingham Park Hotel, in Felbridge, Crawley, West Sussex on Saturday 4th February 2017.
Tommy had a stellar Amateur Boxing Career, having notched up four National titles as well as was appointed Captain of the England Amateur Squad as well as was a member of the Team GB Development Squad, alongside such stars as Amir Khan, Luke Campbell, Billy Joe Saunders etc.
On the 11th March 2016 Tommy turned professional and on his debut on the Mark Lyons WiseGuys Promotions event at York Hall, faced and beat on points fellow debutant, former Kick Boxing Champion Ryan Lyall.
Jacobs-Lyall was an all out war, a truly first class and closely matched contest, so no surprise then, that it was awarded the accolade of being declared the 'Fight Of The Night'.
Just three months later Tommy was back in action on another Mark Lyons WiseGuys Promotions event at the famous York Hall, this time Tommy elected to fight Ebenezer Amedor, whose record stood at 8 wins and just the single loss.
On paper it looked like a probable miss-match to outside observers, as Tommy had just the single pro win under his belt, they were right but not the way you may expect, Tommy not only out-boxed the experienced Ghanaian, but stopped him within the first minute of the second round.
In December 2016 Tommy made his first appearance on the Queensbury Professional Boxing Series that heads up the Ross Minter and Alan Foley promoted Queensbury Boxing League events, where he faced another seriously tough opponent, Middlesbrough's Chris Wood, which was broadcast on Eurosport.
Once more Tommy emerged victorious and boy did he do it in style, so no surprise then when the QBL bosses invited him back for their season opener at the Effingham Park Hotel on February 4th.
OK, so now the scene setting is done, let's hear from the man himself, Mr Tommy 'Sweet T' Jacobs.
Gianluca
Thank you for taking the time to talk with me today, whilst obviously the interview is about your professional career and your upcoming fight against Michael Robinson on the 4th February on the Queensbury Boxing League event at Effingham Park Hotel, I feel that it would be good to start with your amateur boxing career and as such could you tell the readers a little about your many achievements as an amateur boxer?
Tommy
I started boxing at 10 years of age at Harwich amateur club in Essex.
Represented Essex in only my fourth contest, eventually went on to win four National titles, represented and captained England and was part of the development squad that received lottery funding to help with training.
Had about sixty amateur contests in total.
Gianluca
For your pro debut you accepted the match-up with former Kick Boxing Champion Ryan Lyall, who was also making his pro debut. It's unusual for a debutant to accept such a hard fight, firstly can you tell the readers the reason why you did and also a little about the exceptional fight itself?
Tommy
In my debut, I was very eager to get my career started and also didn't really want to be fighting journeymen so when the bout with Ryan Lyall was offered I jumped at the chance as I knew fighting another debutant does a lot more for your ranking than fighting someone with a losing record.
I put a lot of pressure on myself in the first fight the build up was such a long time coming and It did show in my performance I wasn't as relaxed as I'd like to be.
Being in with Ryan reiterated that I also shouldn't be fighting at middleweight and need to be at light middle and eventually welter, as I was so much smaller than my opponent.
Gianluca
Your second fight was against another incredibly tough fighter Ebenezer Amedor, whose record at the time was 8 wins and just the single loss. Again I must ask why did you decide to take the match-up and also please give your view of the fight?
Tommy
My second fight I performed well, the pressure was off from the first fight and I was able to get in the performance needed against a tough opponent.
Again with his pedigree and record I don't see a fighter as a risk as I genuinely believe that I am better then anyone facing me, I see an opponent with a good record as an opportunity to climb the ladder quicker.
Gianluca
Your final fight to date was also against a seriously tough fighter, Chris Wood – It's clear by your previous answers your reasons but again please give the readers your view of the incredibly competitive bout.
Tommy
In my last bout things went a bit wrong, before the bout was made I had a lot of fights fall through so was a little de motivated and took my foot off the gas a little with training and enjoyed my food a little too much.
When I got the call about a fight in eight weeks I was never going to turn it down as I need to stay as busy as possible but I was over three stone over my fight weight!
My original opponent got injured not long before the fight and Chris stood in, again I didn't care who was in front of me and was happy it was another fighter with a winning record coming off the back of a disputable title fight loss.
The huge weight loss affected me massively and without taking anything away from my opponent I had nothing in me from halfway through the first round.
Chris gave me a very tough good fight but I wasn't myself I got through the fight on instinct alone and it was a massive eye opener to keep on top of my weight as you never know when an opportunity might arise.
I definitely want that fight again to right the wrongs that occurred, I never lost a round but that was probably the worst performance I've ever put in so I'd like the opportunity to put it right and I'm sure Chris would like the opportunity to have another go when we both have a full camp knowing who we're fighting, and more so I know the fans really enjoyed it so it's only right to give them what they want.
Gianluca
On the 4th of February, you are set to take on Michael Robinson from Grantham, on the Pro Boxing element of the Ross Minter and Alan Foley promoted Queensbury Boxing League event in Crawley. What are your thoughts on the fight, especially as again you've chosen to go against another tough fighter.
Tommy
My next fight against unbeaten Michael Robinson is a no brainer for me, again a fighter that doesn't have a losing record pushes me that little bit closer to a title fight.
I don't know much about him and have only seen limited footage but I can't wait to get in the ring and see what he has to offer!
Gianluca
Out of the three fights you've had to date which has been your favourite and why?
Tommy
My favourite fight so far in my short career has to be my second against former West African champion Ebenezor Amedor.
He is by far the best opponent I've been in with so far and I feel that the better my opponent the better I will perform.
It was a very clean fight and I was able to get my shots off lovely and I look foreword to beating people with similar or better pedigrees.
Gianluca
How would you describe your fighting style?
Tommy
My style is very unorthodox, I have a very relaxed guard although my defence is one of my strongest attributes when I'm fit and not weight drained.
I have good footwork and fast hands which work great together.
If you had to pigeon hole me then I'd say the type of fighter I am is a counter puncher but I feel my strongest attribute of all is my adaptability, I love to relax on the back foot flicking out single eye catching shots but if I need to I'll happily change it up and take it to the trenches to beat someone or anything in between.
Gianluca
It is clear that you have chosen tough fights early in your career due to your Championship aspirations. As such could you outline your future plans for the readers.
Tommy
With regards to my future, I already know the level I should be at so I want to get there as quick as possible and make up for lost time.
I want to be a PPV fighter and a household name at the top of my division.
In the meantime I'll be looking to pick up as many and whatever titles are available on the way, I'm already asking for title shots all the time I want a belt wrapped round my waist in my next couple of fights.
Gianluca
Moving away from the fights themselves, who are the main people that make up Team Jacobs?
I have a great team behind me, I'm always learning from my coach Russ Smith, my corner men know me inside out I have my brother Matt who introduced me to boxing all those years ago and trained alongside me all of my childhood, one of my amateur coaches decided to follow me with my pro aspirations Paul Shaw has been now doing my corner since my amateur debut in 1998 and I don't feel there is anyone that knows me when I'm in a fight more then Paul does.
I also now have Sean Carter in my corner, Sean is an MMA fighter but we train and spar almost daily so again knows me inside out and has a very analytical view on things so I'm certain he will be an asset to the Sweet Team.
Gianluca
Where do you train and what is your training schedule?
Tommy
I train at Champions Pro Boxing Gym in Colchester we have a great little stable of fighters and get plenty of good sparring.
Training has to be done around work so currently I train at 4:30 in the morning then again after work in the evening and get a few sessions in at the weekends.
Hopefully I'll get to the point soon where I'll be able to train on more of a full time basis.
Gianluca
What would you say your favorite part of training is?
Tommy
My favourite part of training is undoubtedly sparring, it's the closest thing to competing and more realistic then anything else you do in the gym.
If my running, circuits or any other aspects aren't going right but in sparring we'll then I'm happy if it's the other way round then I feel something is up.
You learn so much about yourself in sparring and it's your opportunity to try new things.
Gianluca
Outside boxing, what is your favorite sport?
Tommy
I don't really have time for anything outside of boxing, I love most sports but football like most is the sport I'd follow most closely.
I support Colchester United and go as regular as possible when I can fit it around my training. I love standing in the south stand watching Col U win the only thing is it doesn't happen too often!
Gianluca
Besides sport how else do you relax outside boxing?
Tommy
When I'm not in the gym or not at a show or anything else to do with boxing the only thing I'm interested in is spending time with my lovely little family, my Missus is so accommodating and understanding when it comes to the sacrifices and commitments that comes with being a pro boxer that any free time I have I like to spend with her and my beautiful daughter.
We also have another baby on the way so time bonding together I think is the most valuable to me.
Once a week I get to go into my own little zone and shut out the world, after training on a Saturday morning I go to the Turkish Barbers in Colchester town centre, turn my phone off have a coffee with the barbers then I get a wet shave and massage and every few weeks a haircut. That little hour or so to myself just lets me reset recharge the batteries and go again for the next week.
Gianluca
These days Social Media is very much an important tool for professional sports people; do you utilize Social Media to engage with your fans?
Tommy
Social media is a huge part of pro boxing and so my life, I spend more time logged into some sort of social media page then I spend logged out. It's great for letting people know in bulk what's going on, many years ago you'd have to ring people individually to spread word of fights etc. now I go on Facebook, twitter, instagram or LinkedIn and get it out there that way.
Fortunately I have a great following on social media, which helps massively when it comes to selling tickets promoting sponsors etc.
Gianluca
Finally is there anything you want to say to your fans?
Tommy
Finally is like to say a huge thank you to the people that make it all possible.
My sponsors Esca Recruitment, TMC haulage and Square Mile Broking help me out massively and without them paying for new equipment, medicals etc. would simply not be possible.
Saving the best till last the #SweetTeam the group of people who feel like an army of family when I'm in the ring, the fans that spend their hard earned cash to follow me wherever I am and give me that extra boost when I'm in there.
I'm not going to go into the whole ticket sales scenario but I truly appreciate every single person that buys a ticket to watch me fight, it really does mean the world to me and I cannot thank them all enough, my career isn't possible if people don't want to watch me, so I want to do them all proud and share my success with them all whether it's York hall or Las Vegas.
They're the ones that when it's tough, that fuel me to bite on my gum-shield and fight that little bit harder.
I'm increasingly humbled by the support I get I truly feel that I have the best fans in the world I love each and every one of them.
It's a lonely sport and they share the emotion with you in the moment like no one would understand, the look on their faces and the roar of their cheers when my arm gets raised is like nothing else and I just hope I can do them all proud.
Gianluca
Thank you Tommy and I and am sure the readers too, wish you all the success in your Pro Boxing career.
Tommy Jacobs versus Michael Robinson features on the Queensbury Professional Boxing Series that heads up the Ross Minter and Alan Foley promoted Queensbury Boxing League NO MERCY event at Effingham Park Hotel, West Park Road, Copthorne, West Sussex RH10 3EU on Saturday 4th
February 2017.
Tickets, priced £35, £60 and £75 are available direct from Tommy, any fighter boxing on the NO MERCY event or from the Queensbury Boxing League Ticket Line: Tel: 0203 751 8599
Save