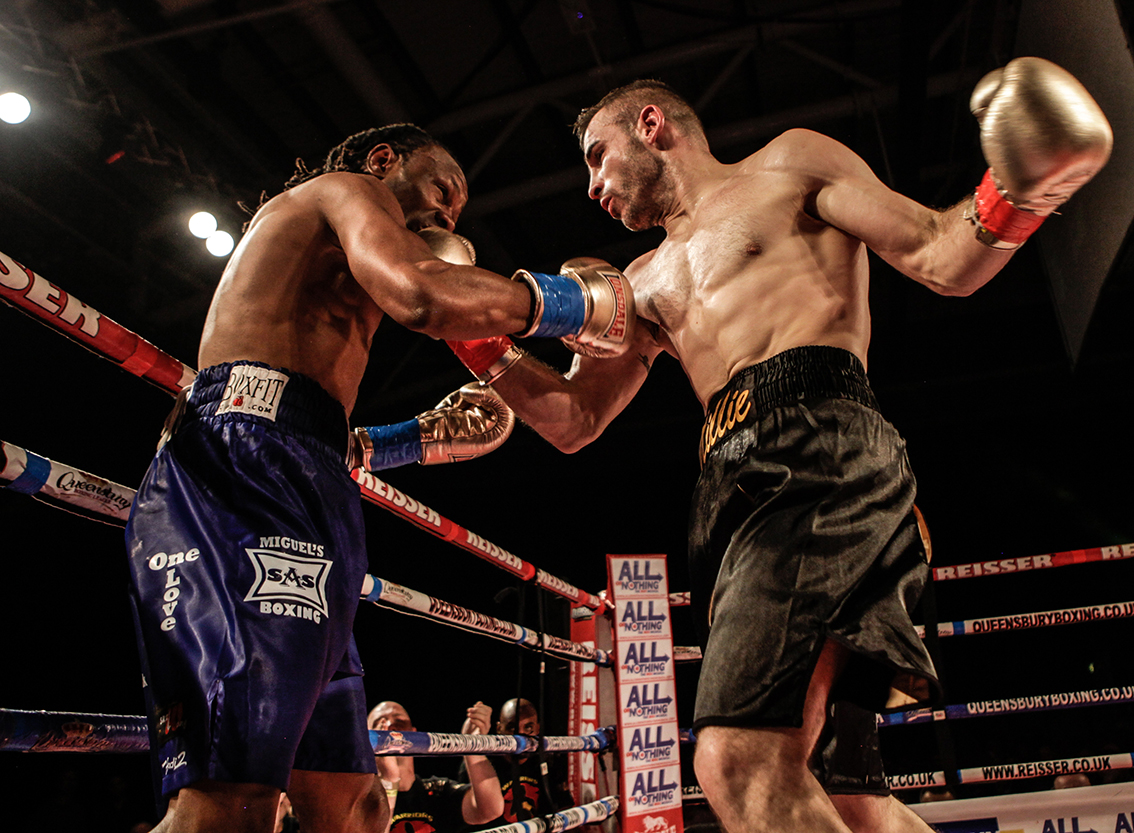 Up Close and Personal with Rising QBL Star Gareth Gardner.
Interview by Gianluca Di Caro
Photo courtesy of Queensbury Boxing League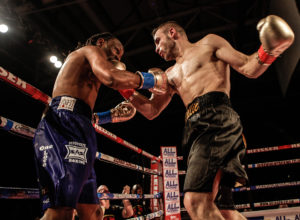 For this edition of 'Up Close and Personal', the featured boxer is New Addington, Surrey's top prospect Gareth Gardner, who is set to face Grantham's Mickey Blackburn on the Queensbury Professional Boxing Series, that heads up the Ross Minter and Alan Foley promoted Queensbury Boxing League NO MERCY season opener event at Effingham Park Hotel, in Felbridge, Crawley, West Sussex on Saturday 4th February 2017.
I was very much aware of Gareth and his fights against Marty Kayes and Ideh Ochuko, however on speaking with QBL's Ross Minter, who really piqued my interest when he said:
"Gareth Gardner is a true professional in all aspects of the word.
He has a very close training team who work incredibly hard together in the gym and also get out there to help promote Gareth which helps bring people to the shows and they are all very good to work with.
Gareth has a good fan base, which we have helped to build during his time in the league, who are very passionate, so it is always a great atmosphere when he fights.
After doing it all in the Queensbury Boxing League, we all decided it was time to turn Gareth professional.
Gareth campaigned mostly at middleweight (11.6st) and also at Light Middleweight (11st) during his time in the league. He is now boxing at his more natural weigh of Welterweight (10.7st), which means that he is no longer boxing people bigger than him, which is really showing in the pro circuit, with Gareth dominating the fights easier than he did when against the bigger opponents in the League.
Gareth should have a busy year this year and we are hoping that we can step him up to title honours towards the end of the year if all goes to plan.
We are really looking forward to seeing Gareth do the business on the 4th February."
Anyone that knows Ross Minter, knows he's a straight talker, he leaves any QBL hype to their publicist, so what he said really caught my attention, especially as I had intended to attend the Queensbury Boxing League Season end event last December, which he and Tommy Jacobs featured on.
Unfortunately that event fell on the same night of another event I was committed to be at in Wales, so didn't get to be there, but on hearing he is in action on the QBL series opener on the 4th February, I decided to make sure that not only did I get to know more about Gareth but also put the show in my diary to ensure I'm there to watch him in action.
Gareth, who had a stellar sixty bout amateur career, which culminated in him fighting internationally for the England Amateur Squad, began boxing on the Queensbury Boxing League shows in 2011. During this time Gareth fought fourteen times, winning all but one, as well as secured five QBL championships in three different weight divisions.
In June 2016 Gareth turned professional and on his debut faced Belfast's Marty Kayes in a four rounder on the QBL event at the Millennium Arena in West Sussex.
No easy fight for a debutant for sure, Marty is a tough customer at the best of times, as proved when he challenged and beat Gary Silverman for the WBU UK Regional championship just a few weeks later, yet Gareth came through the test to secure his first professional victory by a shutout points decision.
In December, on the Eurosport broadcast Queensbury Boxing League season finale event at the K2 Arena in Crawley, West Sussex, Gareth made his second professional outing, this time against Croydon's Ideh Ochuko in a six rounder.
Gareth pressured Ideh from the opening bell and kept the pressure up for three full rounds, so much so that due to an injury picked up during the battle with Gareth, Ideh retired in the corner immediately at the end of the third stanza.
With two excellent wins under his belt, next up for Gareth is a showdown with Grantham's Mickey Blackburn, on the upcoming Queensbury Boxing League NO MERCY season opener at the Effingham Park Hotel on Saturday 4th February.
So with the scene setting all done and dusted, let's move on to the business in hand, the interview with QBL star Mr. Gareth Gardner.
Thank you for taking the time to talk with me today, whilst obviously the interview is about your professional boxing career and your upcoming fight against Mickey Blackburn I feel that it would be good to start with your amateur boxing career and as such could you tell the readers a little about your non-professional career?
I started boxing at the age of 9 years old at the New Addington Boxing Gym.
During that time I had 60 amateur bouts, boxed for London South East numerous times and represented England against Russia.
I then started boxing for the Queensbury Boxing League about 5 years ago. I had 14 fights for them and lost one bout, which was a Quest Knock Out Tournament.
I held five titles for the Queensbury Boxing League at three different weights – Super Middleweight, Middleweight and Light Middleweight.
Back in June 2016 you made your professional debut against Belfast's Marty Kayes. Can you let the readers know how you felt, not only making your pro-debut but also securing your first Pro win, as well as your view of how the fight went?
It was an exciting night for my team. It was something we've always been working towards, but had never happened up to now.
The fight went the full four rounds and Marty was a tough and durable opponent.
We were very pleased we got the win.
In December, you had your second pro-outing, against Ideh Ochuko. Whilst I wasn't able to make the event due to being in Wales for a different event, but had heard that it was a cracking fight until Ideh was forced to retire in the third, as such can you tell us a little about the fight?
Ideh was meant to be a step up in opponent for my first six round fight, but he didn't make the fourth round due to my constant pressure and power.
As I mentioned previously you're scheduled to face Mickey Blackburn on the Ross Minter and Alan Foley promoted Queensbury Boxing League Professional Boxing Series at the Effingham Park Hotel in Crawley on the 4th February. Do you know anything about your opponent and how do you see this fight unfolding?
I don't know a great deal on Mickey. My coach has watched video footage of him boxing, so we've been working on various things in the gym on the back of that.
We've been told Mickey will go the full six rounds, but we'll see come the 4th of Feb.
So out of the fights you've had to date, whether Pro or not, which has been your favourite and why?
It would have to be on the Queensbury Boxing League's show at Alley Pally London, against Sam Holloway, which was a very close fight. I also learnt a lot about myself during that particular bout.
However I have loved every fight I've ever been in!
How would you describe your fighting style?
I'm a come forward aggressive fighter, but I can also box on the back foot if need be. Which I think makes me an all round fighter.
Should you be successful on the 4th February, you will be unbeaten in three, whilst perhaps it's a bit early to be thinking of Championship accolades, I'm sure that you must have been thinking about opportunities like that already, as such could you please outline your future plans for the readers.
I'm hoping to be very busy this year and fighting ten-twelve rounds by the end of the year. Hopefully title shots coming early next year.
Moving away from the fights themselves, who are the main people that make up Team Gardner?
My team has been pretty much the same since I first started my boxing career and consists of my Dad (Will), John and Chris being my coaches.
My Wife and children, they are so supportive. Plus help from Warriors and Juggernauts Gyms.
Last but no means least all my fans that buy tickets for my fights; I would never be able to do this without their support! My loyal fans!
Where do you train and what is your training schedule?
I train at Warriors Boxing Gym in Felbridge four days a week, plus running, hill sprints, swimming and sparing at various different gyms.
I also have a full time manual job and work 6-7 days a week.
What would you say your favourite part of training is?
I don't have a favourite part of training it all hurts, its always painful in our gym lol!
However a gym full of fighters chasing their dreams, is always good to be around.
Outside boxing, what is your favourite sport?
Carp fishing is my hobby, It's the only time I get to relax and unwind.
Besides fishing how else do you relax outside boxing?
Catching up on lost sleep and being around family.
These days Social Media is very much an important tool for professional sports people; do you utilize Social Media to engage with your fans?
Yes, Social Media is great for advertising fights; it would be hard to get around to see all these people with such a busy schedule.
Finally is there anything you want to say to your fans?
Thanks for all your support over the years, Love ya Team Gardner.
Gareth Gardner versus Mickey Blackburn features on the Queensbury Professional Boxing Series that heads up the Ross Minter and Alan Foley promoted Queensbury Boxing League NO MERCY event at Effingham Park Hotel, West Park Road, Copthorne, West Sussex RH10 3EU on Saturday 4th February 2017.
Tickets, priced £35, £60 and £75 are available direct from Gareth, any fighter boxing on the NO MERCY event or from the Queensbury Boxing League Ticket Line: Tel: 0203 751 8599
Save