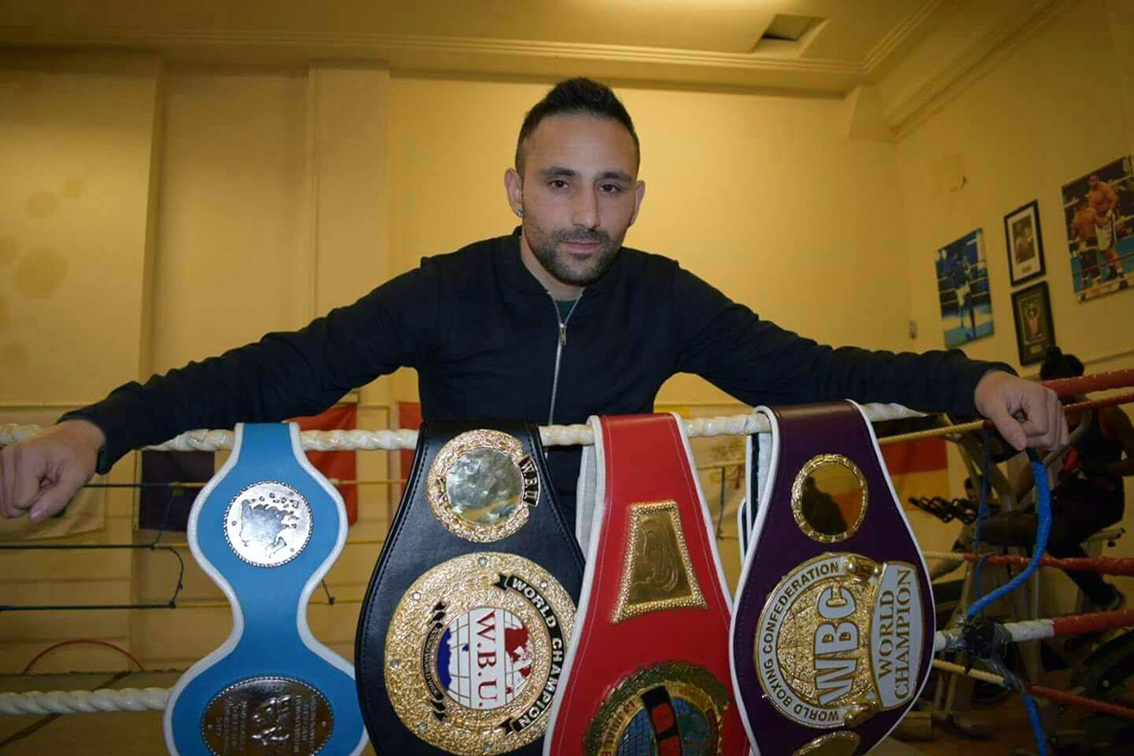 Up Close and Personal with Two Division World Champion Tasif Khan.
Interview by Gianluca Di Caro
Photo courtesy of Team Tasif Khan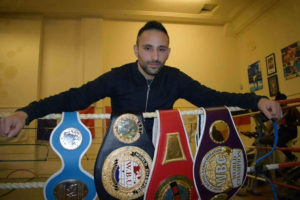 For this edition of 'Up Close and Personal', the featured boxer is two division World Champion Tasif Khan, who is set to face Ghana's Ekow Wilson in a non-championship ten round contest on the Saorise Promotions event at the Connaught Rooms in Tasif's home town of Bradford on Sunday the 26th February 2017.
During the early part of his career Tasif was already competing on the undercard of some big shows, including Matthew Hatton's European title fights against Yuriy Nuzhnenko and Roberto Belge, as well as the Amir Khan versus Paul McCloskey WBA World title fight at the M.E.N. Arena.
His successes were gaining the attention of the national media, so much so that in 2010, following his victory over Pavel Senkovs on the Hatton-Belge undercard, no less than BBC Sport were hailing him as a future British Champion.
Life can be so cruel sometimes and just over two years later Tasif was out of boxing, due to a spat of quite serious injuries, without getting the chance to challenge for the Northern Area title, let alone the coveted Lonsdale Belt that BBC Sport were so sure he would claim.
It would not be until just over two years later before Tasif had suitably overcome the injuries that had bought the early part of his career to an end in such a cruel manner, and finally stepped back in the ring for a competitive contest, against Richard Voros at the York Hall in London in January 2015
A couple of months later Tasif was back in action, this time at the Central Hall in Liverpool, where he scored the second stoppage victory, this time over Ladislav Miko, since his return to the ring.
Tasif finally achieved his dream of Championship boxing a few months later, when on the 2nd May 2015, at York Hall in London, he challenged Georgia's Mikheil Soloninkini for the International Masters Bantamweight title.
He showed real guts and determination throughout, having been sent to the canvas during the contest, and bounced back after the setback to secure the first Championship accolade of his career.
Tasif was then lined up to challenge for the WBU and GBU World titles on the undercard of the ill fated Roy Jones Jr. versus Tony Moran WBF/MBC International Championship headed event which was due to take place in Liverpool on the 12th September 2015.
It wouldn't be until the 2nd February 2016 before Tasif finally went head to head with Isaac Quaye for Championship honours.
Just over twelve months after returning to the fray and in front of a highly enthusiastic home crowd Tasif secured the WBU & GBU World titles with a sensational performance that culminated with a sixth round stoppage victory.
Tasif rounded out the year with a second World Championship bout, this time against Michael Barnor for the recently introduced World Boxing Confederation Bantamweight title.
Again in front of a home crowd, Tasif secured victory by stoppage, this time just 48 seconds into the third stanza, to secure the Championship and be crowned a two division World Champion.
As we entered into 2017 Tasif had intended to defend his WBU & GBU crowns, but due to an issue involving one of the championship organisations, his team decided instead to have a non-championship bout against Ekow Wilson, at the Connaught Rooms in Bradford on Sunday 26th February, whilst the issue is ironed out.
OK, enough from me, it's time to hear what the man himself, Two Division World Champion Mr Tasif Khan, has to say.
Gianluca
You've had quite an eventful couple of years since returning to the fray following a three year sabbatical from the sport between 2012-2015, whilst obviously you will be keen to talk about your meteoric rise since your return to the ring in 2015, as well as your upcoming fight against Ekow Wilson on the 26th February, I'd like to initially concentrate on the early part of your career, especially when you were fighting on big events at the Reebok and M.E.N., as such can you tell the readers about your early career?
Tasif
I have been very privileged and blessed to be on some great events since the start of my career.
My first fight I took on the #7 ranked boxer in Britain, as an away fighter on his home show. I believe this was one of my clearest wins, but was given a draw.
The journey began from there, my supporters and followers just grew and I won the next few fights in a row.
Then I boxed undefeated Stuart McFadden on a Frank Maloney show live on Sky Sports. Again I fought on my opponent's home show, even though I was selling all the tickets.
It was a great fight and I felt more than comfortable, knocking him down in round three, but was given the decision against me in a four round points loss.
Until date that has been my only loss. From then on we went from strength to strength. I was winning fights, travelling the gyms sparring top kids and waiting for my title shots.
I then boxed on a number of Hatton Promotion's shows including Quigg Vs Munroe, Hatton versus Belge and Khan versus McCloskey at the M.E.N. Arena.
Gianluca
Back in 2010, following your win over Pavel Senkovs, on the Matthew Hatton undercard, BBC Sport stated that you were a genuine contender for the British title, which they predicted you would fight for within the following twelve months, however that coveted title shot failed to materialize. So my question is what happened, why didn't you get the opportunity to fight for the Lonsdale belt during the remaining two years that you still campaigned on the first part of your career?
Tasif
That was a great opportunity and Pavel Senkovs was a seasoned and experienced fighter who was naturally bigger fighter campaigning at super bantamweight.
In this fight I believed I showed skill, speed and power. I put Senkovs down in the fight.
The British title was something we talked about always and was pushing for that as we had that and more so the English title in sight.
The reason being we were set back once again due to me breaking my leg and being out of boxing due to injury. I broke my leg playing football – which yes I should never have been playing, but I played competitive football at a good standard and never really felt I would get injured to that extent and be out of boxing.
It kept me out for a period of time and set me back from title contention. That was the day I decided to make my mind up, and realised I cannot be a 'jack of all trades' so needed to concentrate on my career one direction and choose one sport which I did – Boxing.
I returned to training with a different mid set and giving boxing my 100% attention and decided to take my boxing to another level.
In 2011 I chose to give up working and box full time, which was only made possible by my sponsors.
I was added to the Khan-McCloskey bill at the Manchester M.E.N. arena, this was a awesome event and gave me the opportunity to be alongside some of the greats in boxing including, Oscar de la Hoya, Freddie Roach, Amir Khan, Martin Murray, Mathew Macklin, Scott Quigg etc.
Also the event gave me a taste for the limelight and big stage and for this event I sold £22,000 plus worth of tickets and had a massive following in attendance.
In the build up to the fight we tried to get a title fight like the English title etc., but politics within the sport put a stop to this.
Following this fight, we put forward for various titles within our reach and capabilities, but again was knocked back due to politics and unfair reasoning.
I started to doubt if the opportunity of fighting for a title would ever happen, even though I was a good ticket seller. It seemed I was being used for shows on a four or six rounds basis.
I picked up a hand injury once again, which set my knuckle further back in my hand. We rested a little and thought rest would be sufficient, but during training camp for a title eliminator we damaged the hand once again, then one injury led to another.
I was out from boxing for a few years with injuries and setbacks. So it was very difficult to keep focused and determined to fulfil my goal of becoming a champion!
I ticked over whenever I could in the gym, staying fit and trying to keep motivated.
In 2014 I returned to full fight training after changing gyms to the Bethlehem Boxing Club, where under the guidance of Lee Murtagh and Martin Stainsby I not only got my fight fitness back but also took on a totally different mind-set, a very focused one.
I believe overcoming the hurdles and gaps from the sport made me mentally much stronger and experienced and equipped me with the right tools to go to the top.
Gianluca
In January 2015 you made a successful return to the ring, with a stoppage victory over Richard Voros at York Hall in London, two months later you had another stoppage victory, this time over Ladislav Miko and then just two months later successfully challenged Mikheil Soloninkini for your first Championship accolade, the International Masters Bantamweight title. Firstly how did you feel making the return after three years out, was it different to you debut, or were the feelings you felt similar to that of your pro debut? Also can you tell the readers how you felt securing your first Championship accolade as well as a little about the fight?
Tasif
Yes, I can honestly say it was the best feeling ever to get back in that ring at York Hall in London after a long time out, to showcase my skills.
It was a successful return and yes it did feel a lot like my debut again, as I had hundreds of fans travel from the North to support me. This fight was to thank them for all their support, help and their for them sticking by me throughout.
The aim was to stay busy, as I believe a good fighter is a busy fighter.
The next few fights we had up and down the country, Liverpool, then London again etc. and on a winning streak.
Then in May 2015 I was given the opportunity to box for the International Masters Silver title, for ten rounds against Mikheil Soloninkini.
Now, I've seen Soloninkini box Charlie Edwards at the 02 Arena in London, so knew what I was up against. He's a tough kid who doesn't mind a fight.
We trained very hard for this fight; I had a dietician, nutritionist, strength and conditioning coach etc., to take me to the next level.
I always believed I had the attributes and self-belief to become a champion, and being mentored by my good friend, former WBC World Champion Junior Witter was very much a factor in that.
Having so much support and advice from such a renowned Champion as Junior, as well as Naddeem Siddique, who was also a stable mate for much of my early career really helped give me the much needed self belief I needed in my early career.
We really performed well in the ten round contest and scored a clear points decision victory to claim the International Masters tile, have to say it felt like winning a World title fight that night.
That fight answered so many questions for me, first off doing the full ten rounds, but I suppose the biggest question answered was that of "heart", as I got knocked down during the fight, but got up off the canvas and fought the fight of my life to make sure I got the win.
The fight was at a weight higher than usual for me, Bantamweight, not Super Flyweight, but wasn't going to turn down such an opportunity.
I felt my dream had come true, first getting the opportunity and of course winning my first title.
Gianluca
Just over a year from your return bout you were fighting for both the WBU and GBU World Super Flyweight Championships against Isaac Quaye. I was there so know what the atmosphere and your performance were like, but can you let the readers know from your perspective how you felt about getting the opportunity as well as the fight itself and how you felt being crowned World Champion for the first time?
Tasif
Words alone cannot possibly describe how I felt just getting the opportunity, let alone being crowned World Champion.
It was from a dream come true, from the first time I walked into a boxing gym at the age of ten. Having lived and brought up in Bradford, to then have the opportunity to not only fight for a World Championship, but fight for it in my home town was more than a dream, it was unbelievable and literally 'Making History' being the person that fought the first World Title fight ever in my home town of Bradford.
When I initially got the call from my manager and promoter Stephen Vaughan, he asked, "Would you like to fight for the WBU World title against Isaac Quaye from Ghana?" I was lost for words, I mean Stephen said that they had asked for it and then asked would I take it.
I thought it was a joke and laughed, I really thought he was playing a prank on me and was about to put the phone down but his tone changed and he then said, "I'm serious".
My eyes lit up and I immediately said yes, I didn't even hesitate. I was just so excited, I didn't even ask about the purse, fight details or anything.
The whole team were excited and we began our preparations. The fight was due to take place first in London, but that show got cancelled, then Liverpool, again got cancelled due to flight issues and Isaac never made it to the UK in time for the weigh-in let alone the fight.
It was getting to the point where I thought this isn't going to happen, then Stephen managed to get the fight finalised and made in my hometown of Bradford.
Finally my chance to make history arrived and everyone who was present on the 6th February 2016 played their part in "Making History". It was an amazing atmosphere and to top it up a second world title was added to the night GBU world title.
We won the fight by a sixth round Knockout, but before doing so had put Isaac down three times.
The atmosphere was electric, the support was electro and it made my performance that much more electric and sweet.
I dedicated this fight to all those fans and supporters who have been there supporting me from day one, for my sponsors, Kingsland Business Recovery, Broadway Solicitors, Janan Fashion, Vista Gym, SouthPaw Fightgear, as well as to my family, for their continued support and my old Amateur trainer Mr Allan, who had passed away (RIP), who took me under his wing at age 10 and grounded me with skill, attributes, discipline and respect to become a World Champion.
For weeks after, I still couldn't believe I had won the World title, particularly the WBU title, I mean I grew up watching Ricky Hatton win and defend the WBU title several times, to now have that same belt framed in my own room is beyond excitement and beyond any words.
I have to say a massive thank you to Stephen Vaughan for making this possible and bringing world championship boxing in my hometown of Bradford.
Gianluca
Last November you were back in World Championship action, this time against Michael Barnor, however you weren't defending either the WBU or GBU titles, but campaigning for the recently launched World Boxing Confederation Championship. My first question has to be why did you choose to campaign for a different Championship rather than defend the GBU and WBU titles? Also could you tell us a bit about the fight and how it felt to secure your third Wold Championship belt?
Tasif
Firstly the intentions to defend my belts were clear and in the plans for this fight, however due to the politics and behind the scenes issues with the WBU I needed these to be sorted first.
Secondly I was given an opportunity to box for a third World Title at the weight above mine, so shouldn't have affected the status of my WBU and GBU titles as this was fought at Bantamweight.
If there was no WBC (World Boxing Confederation) belt at stake at Bantamweight, I would have happily defended my Super Flyweight titles.
Winning a third World title was awesome and it felt just as sweet as the first time.
I believe having World titles in two different divisions, will open more doors for me in the future, maybe even with fights in America.
The fight was a potential banana skin fight for me, I mean I was fighting someone naturally bigger than myself, he's 5'9" tall, and he's an awkward and rangy southpaw. Worse still we had no real fight footage, so all in all had all the ingredients to make it a very difficult night for me were there.
After the first round it was clear that Michael Barnor was not there just keep me at bay and take the opportunities when they arose, but was keen to stand and fight, which actually played into our hands as our game plan was to get inside his reach and work his body.
We stood in the middle of the ring and traded blows; I felt very comfortable and enjoyed it. I felt the body shots were taking their toll and were definitely slowing him down. Then in third round I caught him with a lovely body shot, which ended the fight.
I can honestly say I am feeling stronger and stronger each fight. Winning three world titles is awesome.
The hunger and drive is still there in fact even more so, I go into each fight thinking and behaving like the challenger. My aim is to Continue winning and if possible add more silver wear as well as get those over seas fights in America I crave.
Gianluca
Since winning the World Championship I understand you've also been receiving various accolades from the Political World, both locally and Nationally for your achievements.
Tasif
Yes indeed, after I won the WBU and GBU titles the Lord Mayor of Bradford arranged a Civic Reception to celebrate my success, I'm still speechless over this, I didn't expect this at all, thinking about it still blows my mind, even today.
Then in October I was invited to the Houses of Parliament, along with Amir Khan and singer Imran Khan, where I was awarded a British Asian Achievements Award.
I didn't expect or even dream that I would have my achievements recognised at this level. Receiving recognition in this way is so humbling.
Gianluca
OK, back to Boxing now, on the 26th February, at the Connaught Rooms in Bradford, you'll be in action once more, in a ten round non-Championship contest against Ekow Wilson. How much do you know about Ekow and how do you see this particular fight unfolding?
Tasif
Yes next fight Feb 26th 2017 at the Connaught rooms. It will be a ten round international fight.
Ekow is a fighter who has had a lot to say, claiming he will knock me out, like he has done many of his opponents.
Yes I agree, he has a very good record with 16 wins, 14 by way of knockout and only 2 losses, one of which was against the highly ranked Duke Miccah.
Basically I believe this is a tough fight, but one we can over come and win. This is not about anything this is about pride; he claims I have avoided him. He claims I have been running scared. So as you can see this is a fight to prove to him and myself that I belong here at the top and I will prove my worth.
Wilson is promising a Knockout, but I believe talk is cheap and I intend to prove my worth in the ring on Feb 26th.
Gianluca
Now we've covered your career I must ask, out of the fights you've had to date which has been your favourite and why?
Tasif
All my fights have they own special meaning to me, for example fighting on the undercard of Amir Khan versus Paul McCloskey, to be on such a huge show was so special to me, but for me my most favourite is my WBU & GBU World title fight in Bradford on February 6th 2016 against Isaac Quaye as that was "Making History"
Gianluca
How would you describe your fighting style?
Tasif
I believe my style to be a come forward counter puncher.
Gianluca
Should you be successful on the 26th February, what are your future plans, will we see you back in Championship action again soon?
Tasif
Yes most definitely, I will be taking this fight and after I win will look to continue with Championship career. My future plans lie with my campaigning at Super Flyweight only and I aim to continue winning Championships, as well as breaking into the America scene.
Gianluca
Moving away from the fights themselves, who are the main people that make up Team Tasif Khan?
Tasif
On the training side the main people are Martin Stainsby and Lee Murtaugh, however the Team is much more than that.
Besides the support I get from my family and my sponsors: Kingsland Business Recovery, Broadway Solicitors, Janan Fashion, SouthPaw Fight Gear, Vista Gym Benidorm, Junior Witter, Naddeem Siddique, Vyomax Nutrition and last but not least all my fans.
Gianluca
Where do you train and what is your training schedule?
Tasif
I train in Leeds at the Bethlehem Boxing Club as well as the Coda Fitness Gym in Bradford, for my strength & conditioning sessions. I Train twice a day, six days a week, with just Sunday off to recover, relax and recuperate
Gianluca
What would you say your favourite part of training is?
Tasif
My favourite part of training is the intense pad work sessions, working on timing, and combinations to execute in the ring.
Gianluca
Outside of boxing, what is your favourite sport?
Tasif
Football and Cricket
Gianluca
Besides sport how else do you relax outside boxing?
Tasif
Spending time with my family, friends and lived ones, I also enjoy watching movies.
Gianluca
These days Social Media is very much an important tool for professional sports people; do you utilize Social Media to engage with your fans?
Tasif
Yes, I engage with my supporters and fans on Facebook and Twitter.
I have a Facebook under my name Tasif Khan and more recently a fan page. Tasif Khan- Professional Boxer and my Twitter is: @tasifkboxer
Gianluca
Finally is there anything you want to say to your fans
Tasif
Thanks to everyone who has been with me throughout my boxing journey. We had a fantastic 2016 and with these guys support I'm sure we'll have an even better 2017 – if you love boxing come and join the ride #TeamTasKhan.
I have also launched a social enterprise, the Tasif Khan Community Boxing Academy, to promote the health and well being of the youth and adults in the community, by tackling obesity, highlighting discipline and respect, as well as promoting life skills.
Tasif Khan versus Ekow Wilson headlines the Saorise Promotions event, that takes place at the Connaught Rooms, 34 Manningham Lane, Bradford BD1 3EA on Sunday 26th February 2017.
The British & Irish Boxing Authority (BIBA) sanctions this event
Tickets: priced £30 (Standard Seated) and £60 (VIP Ringside) are available form any boxer taking part or call: 07944 655735.
Save