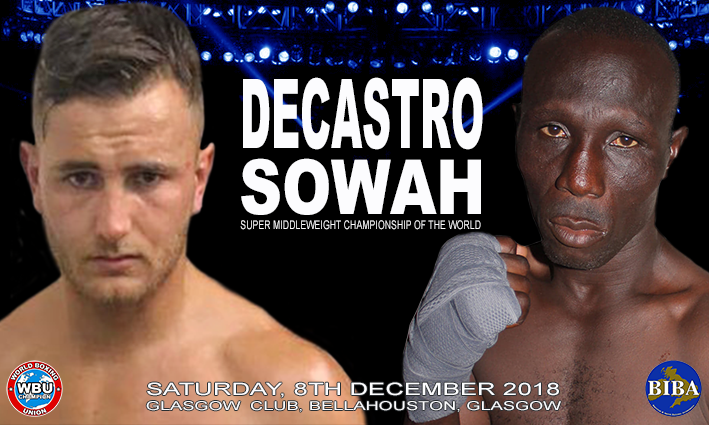 Bardney, Lincolnshire's Nathan Decastro (14-0-0) wholeheartedly believes it is his destiny to become World Champion. In just over a weeks time he finally gets the opportunity to make his childhood dream come true, when challenges Accra, Ghana's Daniel Adjei Sowah (20-6-2) for the World Boxing Union (WBU), Super Middleweight Championship of the World at the Glasgow Club in Bellahouston, Glasgow on Saturday the 8th December 2018.
Decastro, who is currently ranked #6 in the International Boxing Federation (IBF) Intercontinental rankings, earned the shot for the WBU World Crown with a solid points victory over West African Boxing Union (WABU) Champion Agoe Ashong (11-2-0) to secure the Professional Boxing Council (PBC) Commonwealth title at Pride Park in Derby back in September.
Speaking from his home earlier Decastro could barely hide his joy at the opportunity to fight for his first World Championship.
"I'm buzzing, I just can't wait. I mean not only am I fighting for the World title, but will be fighting for it on the undercard of Scott Harrison's return to the ring, exciting times.
"My camps gone really well, I'm feeling fitter and stronger than ever. We're not leaving anything to chance; we've covered every conceivable angle.
"My father Frank has made sure of that, he's a great coach, I really am blessed that he trains me.
"We know he's a banger, but so am I and what's more I have a better KO ration of 11 in 14 against his 13 in 28 and more importantly I believe I am more hungry for this than him.
"It's been my dream since I started boxing as a youngster to win a World title and now I'm just over a week away from making my dreams come true.
"Especially as I am fighting for the WBU Title, we have history with this Championship at the Bracebridge Boxing Club, as Kelly Oliver whose father owns the club also fought for the WBU crown, at Cruiserweight, so have to win it and bring the belt back to the gym I've trained at all my career."
Decastro then went on to vent his frustrations over the way bureaucracy had thwarted his previous Championship efforts.
"I've had a really frustrating year or so, yes I won the Commonwealth title last time out but twice this year I was supposed to challenge for the World title.
"Unfortunately bureaucratic red tape caused the fights to be cancelled, either Visa issues came into play, as with the original planned fight against Agoe (Ashong) in July or worse still unnecessary political interference by the EBU, which scuppered the IBF European fight against Ronnie (Landaeta).
"This time though it's different, Daniel has his Visa and the EBU can't possibly interfere, so no excuses.
"It's my destiny to be World Champion, come 8th December, my dreams will come true, I will be crowned World Champion as I owe it to my legion of fans that have been awesome and so supportive."
Nathan 'Nightmare' Decastro versus Daniel Adjei Sowah for the World Boxing Union (WBU) Super Middleweight Championship of the World, is the main support for the highly anticipated return to the ring of two time WBO World Champion Scott Harrison (27-3-2) against Tackie Annan (11-6-0) at the Glasgow Club in Bellahouston, Glasgow on Saturday the 8th December 2018.
Tickets: Priced £60 (Ringside), £50 (Outer Ringside) and £40 (Standard Seating) are available from the Assassin Boxing Promotions Ticket Line: 07594 144433 and on-line at www.tkoboxoffice.com.