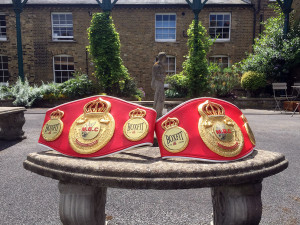 The MBC International Championship was created as an open championship, as such is not limited to any one region or country, but available to be competed for by boxers from any Country and at any location World-wide.
The MBC International Championship provide promoters a cost effective Championship  for their events, as well as provide upcoming boxers an opportunity to compete for a credible, high profile International Championship accolade.
WHY THE MBC INTERNATIONAL CHAMPIONSHIP?
The MBC International Championship provides promoters world-wide with a credible high profile, yet cost effective, Championship for their upcoming boxers, as they take their first steps on the Championship trail.
COST EFFECTIVE – SANCTIONING FEE INCLUDES CHAMPIONSHIP BELT*
To keep the costs as reasonable as possible for a limited period the MBC Championship sanctioning fees are inclusive of the Championship belt*
NO PERCENTAGE OF BOXERS PURSES REQUIRED
Unlike many championships, the MBC do not take any percentage of the boxers' purse or compensation received by the boxer for competing in an MBC International Championship bout.
MALE & FEMALE CHAMPIONSHIPS
The MBC International Championship is available for both Male and Female Boxers – Male Championship bouts are over ten three minute rounds, whilst the Female Championship bouts are over ten two minute rounds.
ADDITIONAL CHAMPIONSHIP BELT FOR CHAMPIONSHIP DEFENSES
When a Champion is defending his or her title, the MBC will provide an additional Championship belt in the event that the challenger is victorious, so that the new champion receives his or her belt on the night.
PUBLICITY & PROMOTIONAL SUPPORT
Full publicity and promotional support – from press releases through marketing support to pre event promotional activities etc.
Contact:
Save